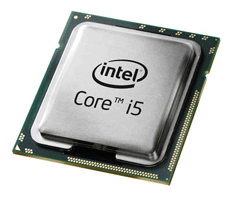 Bridging the gap

Intel currently own the high end processor market with the superb intel i7 processor. The only problem with them is the price tag. The i5 is here to bridge the gap. Released in September 2009 the core i5 CPU is a new release of the "Nehalem" based architecture which was only found previously in the core i7 range, so it's nothing "new" but what does it all mean?

Sockets

The Core i5 gets a new socket type, the LGA1156. Simple…….well you would hope so. To confuse matters slightly Intel are now going to be using the LGA1156 socket for some of its i7 CPUS, where previously the i7 solely used the LGA1366 socket. Socket sharing is nothing new for Intel, for example socket LGA775 is used for Pentium 4, Dual core and Core 2 Duo processors.


Along with the socket change there is a new chipset named P55. In short it means less features but at a reduced cost. This plays a big part into the cheaper price of an i5 setup.

Turbo mode

This was a nice feature in the i7's although it does not offer ground breaking performance increases. What happened in the past was the processor would essentially over clock itself when some cores were not being used, however for example, the i7-965 only went from a stock speed of 3.2GHz to 3.46Ghz. The Core i5 750 is set to go from 2.66Ghz stock to a whopping 3.2GHz which is a much more worthwhile number I am sure you will agree.

Memory

The original Core i7 range use triple channel DDR3 memory which meant you had to buy sticks of RAM in threes. When taking cost into consideration this is not ideal. Core i5, yup you have guessed it, returns back to dual channel setup making RAM cost a good chunk cheaper, but keeping performance change to a minimum. Some of the new i7 CPUs will also be graced with this configuration.

HyperThreading

Hyper threading is where Intel simulates more cores that there actually are. In windows, i7 processors that actually have four cores, appear to have eight! Core i5 processors will not have this feature and so windows will only report four cores. This wont really effect most people who are surfing or gaming but the 3d rendering and multithreading users will miss out.

Conclusion

As you can see, there are differences. They are not massive and to be honest most users are not missing out on much if choosing an i5 over an i7. However it is going to be more dependant on which version of i5 or i7 is chosen.


Clearly the i7 is superior, but for the cost conscious the i5 should be the weapon of choice.