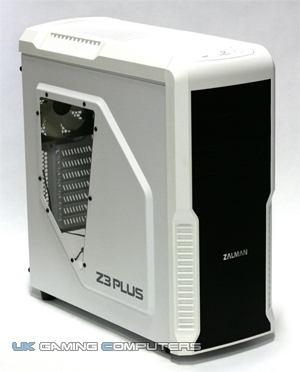 Manufacturer: Zalman

Model: Z3 Plus White

Size: ATX

Price: £30 + VAT

Availability: October 2013



UK Gaming Computers are pleased to announce that we are one of the first to get their hands on the new Zalman Z3 Plus case and probably the first in the world to have a play with a white one, so pleased in fact, that we are going to do a little review on it!


As we usually deal with high end systems we usually are found playing with high end cases however when we saw the spec sheet for the Z3 we were immediately intrigued with it due to the mass of features for such a small price point. £35 inclusive of VAT gets you proper cable management, 4 fans as standard, quiet, room for a 240mm radiator, fan filters, fan controller and USB 3.0. These are the sort of features you find on a case twice the price so were very sceptical before it arrived.


We have been on a little mission as of late trying out new "entry level cases" for our range due to Xigmatek going off on a bit of a tangent so have literally looked at 50 cases in the sub £35 mark, all of which don't live up to the requirements that we deem suitable for a computer case. CiT Vantage, Fractal design Core 1000, BitFenix Merc, Aerocool VS-9 are to name a few, none of which are better than the Xigmatek Asgard. I say "entry level" as there are plenty of much cheaper cases out there that can be had for the sub £25 mark but putting a £700 computer in a £20 case is a huge no no so to us its entry level, but others may describe the price point as entry to mid level or even mid level!


Anyway, enough about our hatred towards cheap and nasty cases, lets take a closer look at the Z3 Plus;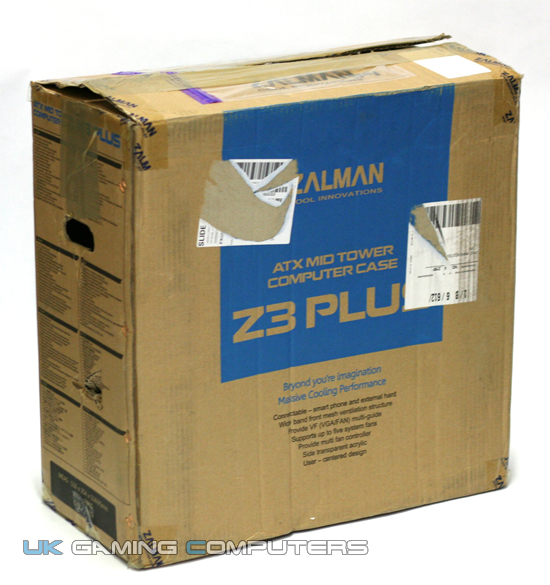 Nothing exciting to see here but this is how you will find a Z3 Plus packaged. Brown box complete with the make and model directly printed on the front side and the specifications printed on the smaller faces. As you can see, our box is pretty bashed up, but that is because it is a sample. The retail versions will come in lovely crisp clean box's. On to the main looks......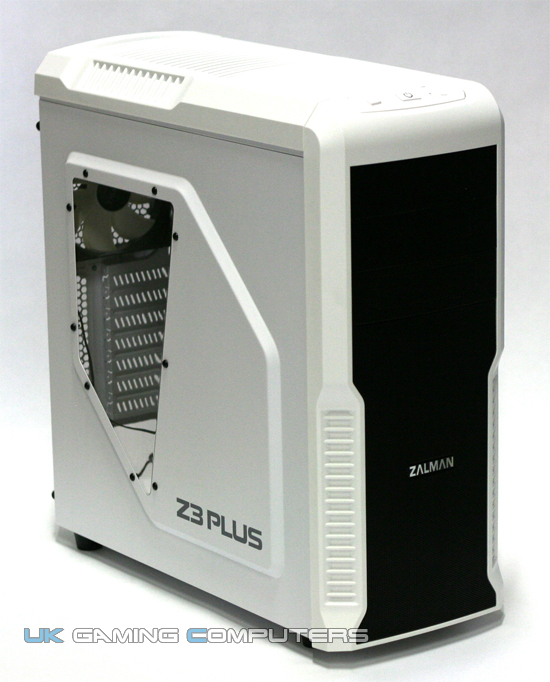 So, this is the money shot of a Z3 Plus white. You can see the bright white top and sides with the contrasting black mesh front which gives it quite a striking impact. To the top of the front you can just make out the fan controller switch, power switch and off to the right the reset switch. The Z3 Plus is painted on the left side panel along with the odd shape window which shows off the case internals, however nearly all Zalman side windows are an odd shape so its not unexpected. The front mesh sports 3 5.25" expansion bays for optical drives with the lower one converting into a smaller 2.5" bay to allow smaller components such as a memory card reader. I must admit, its quite a good looking case, however the only thing that puts me off is the slight difference in colour between the steel parts such as the side panels and the plastic parts such as the top and front trim. It is not a photo trick either, it does look like it in real life however the photo does make it look more pronounced. As disappointing as it is, every white case out there that has coloured plastic trims and panels against a painted metal surface suffers the same problem, the NZXT suffers from it as too does the Corsair 600T White however it is much less noticeable on the 600T White.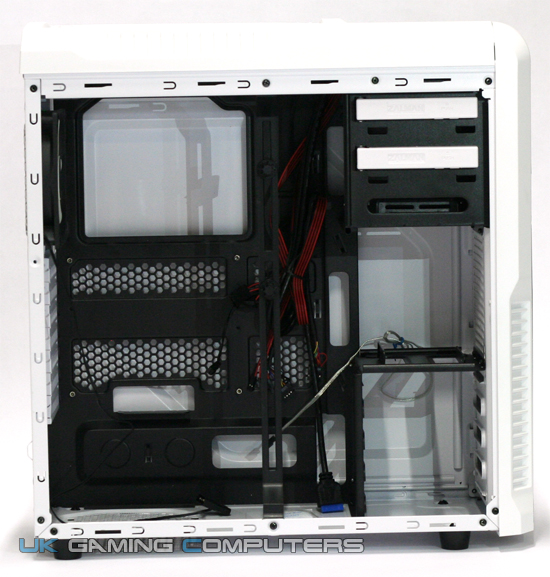 Inside we can see a good amount of space to work with, this case will happily accept a full ATX sized motherboard. The interior is littered with cable routing options to get all those wires and cables neatly routed out of the way to aid with visuals and air flow, a must in our opinion when dealing with cases that have side windows and all the components on show.


The next most in your face thing is the black vertical bar that runs from the top to the bottom of the case. This is definitely a first for us but apparently it is so you can suspend another case fan in the case. I can't but help think that this is not much more than a gimmick simply because this case comes with 4 fans as standard which should be ample to keep the system cool enough. The option to remove it should you wish is there simply by unscrewing a couple of screws found at the top and bottom of the rail but I quite like the idea of being able to bolt a cold cathode of LED strip to it as it would be the perfect place to be able to highlight the main components when taking a peek through the side window. In case you are wondering, the rail is not seen through the side window so it won't be getting a phone call from the styling police!


The Z3 Plus is equipped with 4 120mm Zalman fans as standard, one front crystal blue LED, 2 top white blade fans and a single rear white blade fan. For a case of this price, this is pretty much unheard of, 2 is usually what you get and even then they are nosey little things, lets hope this amount of fans does not cause a racket.


To the bottom right is a HDD cage, capable of holding 4 hard disks with 8 rails that come bundled with the case. On top of the HDD cage is a little spot for mounting a smaller SSD so you wont be using this case to house loads of hard disks but for you average user this will be plenty. Above the cage is a void which allows the installation of up to a 360mm graphics card, the front fan is located to the right of the void so the air that it flows blows directly onto the graphics card. To the top of the case is another cage for mounting 5.25" devices such as an optical drive or fan controller with a smaller non removable bracket at the bottom for mounting the smaller front devices such as a card reader. The top two slots have a quick release to satisfy those that like a quick installation or removable of their 5.25" device, these are quite robust and don't feel cheap like many lower end quick release mechanisms so should keep everything where you left it!


The front panel connectors flow out from above the top cage, complete with motherboard headers for 1 x USB 3.0 port, 2 x USB 2.0 ports, power & reset switch, audio in and out, power led, HDD activity, 2 fan controller fan connectors and molex power for the fan controller. Immediately below the point they enter the case is a nice cable routing hole which will allow you to run your cables in and then pop them out nearer their destination.


Finally there is a huge motherboard cut out to allow you to fit a CPU cooler backplate without needing to remove the motherboard and all the other components aiding in the installation of a CPU cooler either during installation or later down the line.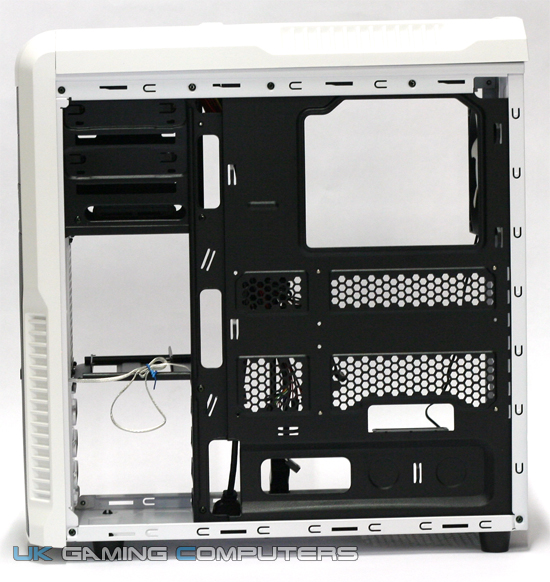 Here is a shot showing behind the motherboard tray with the right hand side panel off. There is not much going on here, a couple of cable tie points and a little depth for running a couple of thing cables around but because the side panel is pronounced outwards it leaves a good 10mm of space so you can run a mass network of bigger cables. The only concern I have is where the hole for running the CPU power cable is located as close to the hole itself the side panel is not pronounced making it a tight fit for a thicker cable. Nearly all cases of this price point do not have sufficient space behind the motherboard tray for cable routing, meaning most cables end up being routed in the main part of the chassis which not only looks ugly but also spoils airflow. What the Z3 Plus has here is very good.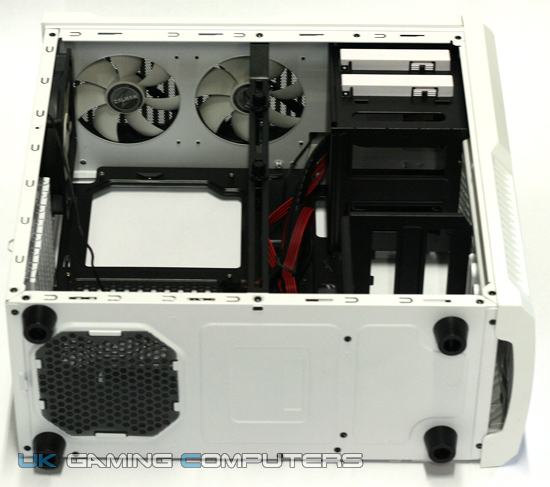 An odd photo angle but here we can see the rubber feet of the case and the PSU dust filter. The feet are also deep enough to give enough room for airflow if you flip the PSU upside down. You can also make out the roof of the case showing the two white Zalman fans. We had a go at fitting a popular corsair H100i and unfortunately it didn't quite fit, we also had a crack with an XSPC AX 240mm radiator which also does not fit, the ends of the radiators are just too big however if you were to cut out the top of the roof and drill a couple of mounting points you can squeeze one in using the pull method. A Fan push method is a no go due to the low depth of the roof cavity.


Testing


There is no better way to test a case than to put a system in it and record some numbers, this is the rig we put in;


Asus Z87-K Motherboard

Intel Core i5 4670K

Stock CPU cooler

8GB Corsair XMS3 1600MHZ RAM

Nvidia GTX 660 Graphics card

Corsair TX650 PSU

500GB Seagate Barracuda HDD

Asus Optical Drive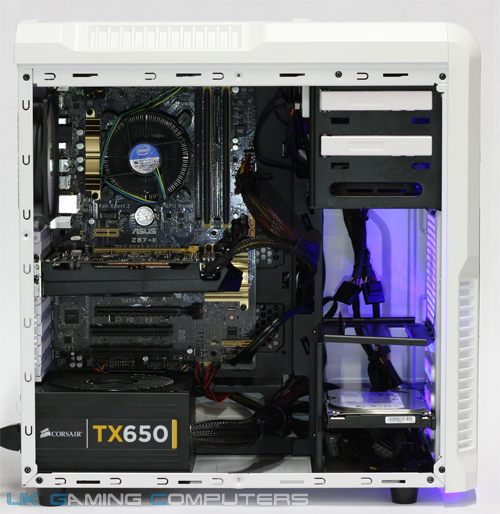 As you can see, this mid range system has plenty of room to breathe. The cable routing holes allow for a tidy install and the black internals help camouflage the black cables however where they route behind the motherboard trays small holes are along with the void area there is a contrasting white background which does make the "hidden" cables noticeable. Again, every white case we have come across this issue is noticeable however it's hardly a deal killer and is not noticeable when the side panel is on or when you take a look through the side window.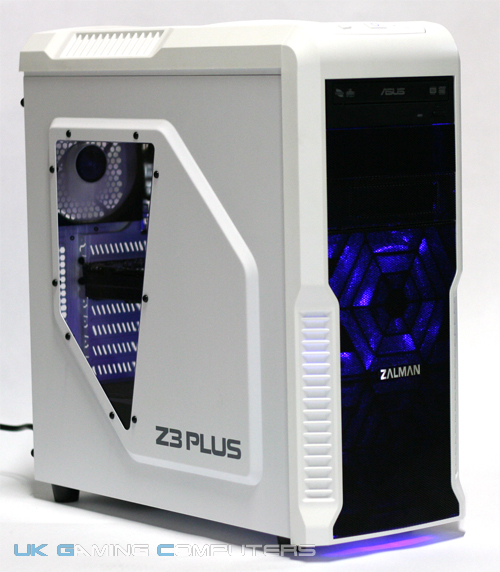 Here you can see how the front LED fan glows through the front mesh, its nice and subtle and it would be great to see what it looks like with a couple in there and both lit up.


We put the rig through its paces, we firstly wanted to measure the CPU temperature. We fired the system up and left it on idle for 15 minutes, the CPU temperature was reporting between 32 and 36°C. We then placed the processor under load and ran Prime95 for 15 minutes, the maximum temperature our 4670K, on the stock cooler, got to was 76°C. All temperatures we read with CoreTemp.


Next we wanted to see how the chassis coped with the Nvidia GTX 660 so again left the system to idle and after 15 minutes to a Graphics card reading of 36°C. When the put the graphics card under intense strain by running Furmark for 15 minutes, the graphics cards max temperature recorded was 81°C.


Whilst Furmark and Prime 95 are awesome tools they do not represent the real world too well as very few systems will actually stress a GPU or CPU at 100% load for 15 minutes solid. 3DMark 11 is a synthetic tool to simulate a demanding PC game which is usually the hardest work a system has to do, it also gives a benchmark score so you compare it against other systems. We gave 3DMark 11 a run and recorded the maximum graphics card and CPU temperature. At the end we recorded a maximum graphics card temperature of 70°C and CPU temperatures of 66°C.


These are pretty good temperatures for a £50 case let alone a £30 one! The system as a whole is also amazingly quiet, even with the fan controller set to high, you really have to put your ear to one of the fans to actually hear it. During all tests the temperatures remained well within the thermal limits of the components which is the main requirement.


Final thoughts


Without a doubt we were very impressed with Zalmans "budget" case. We were initially interested in taking on the Z3 plus as it is a similar price to the Xigmatek Asgard and were looking to change it, little did we know that it far supersedes the Asgard and anything remotely close to its price range. The Zalman Z3 Plus has features and the quality you would expect from a case at nearly twice the price. The ability to install a decent mid range rig, keep it cool and quiet enough is enough alone to warrant its price tag but it goes beyond that offering you all the latest extra features like USB 3.0 and a built in fan controller. It still without its flaws, but for the money, there is nothing out there that comes close.


Pros;


Very good value for money

Good looking

Abundance of modern features




Cons;


Only two fan controlled by the fan controller

Lack of support for 240mm radiators

The slight colour difference between the two white materials