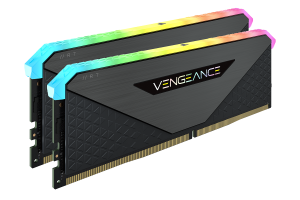 Corsair have recently launched a new range of DRAM dubbed RS and RT and whilst they appear to be very similar they do share a very slight difference between each other and do differ slightly from other ranges.
The Corsair Vengeance RGB RS & Corsair Vengeance RGB RT range appears to complement the existing ranges such as the Value, LPX, RGB PRO, RGB PRO SL & Dominator range with no news that RS or RT is set to replace any of these lines soon. For both RT and RS, modules come in 8GB, 16GB and 32GB with the only clear omission is 4GB modules which is no surprise as it appears Corsair is in the process of culling various 4GB modules from their range. The other observation is that it appears the Corsair Vengeance RGB RS & Corsair Vengeance RGB RT range ONLY come in 3200Mhz and 3600Mhz flavours currently, of course this may change in the future but whilst "only" having these 2 speeds is likely to satisfy 95% of the user base.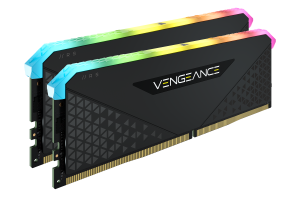 The difference between Vengeance RT and RS is not initially obvious, to start we started rummaging through latencies, timings and speeds however the answer is much more simple; Corsair Vengeance RS modules have 6 ARGB LEDS whilst Vengeance RT modules have 10 ARGB LEDS............and that's it! Same modules, speeds, timings, ICUE compatible there is literally a difference of just 4 Addressable LEDS. Personally, the RT's do look slightly better and adds more definition to the multitude of lighting effects that can be applied via Corsairs ICUE software, and on the current face of things there is only a small difference in cost between the two which currently sit around 5% more than the current RGB PRO and RGB PRO SL range.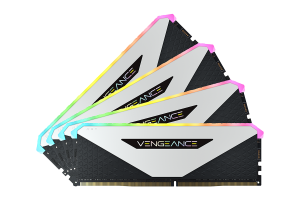 Whilst initially there is not much of a difference between these and the existing RGB PRO range they do come in a total of 3 colours; Black, Gunmetal (which is more of a 2 tone gunmetal and black) and White (which again is more of a 2 tone). They look modern and are a welcome addition to users looking for a specific look especially the two tone options. Our only concern is the height of each module listed at 2" which is fairly tall on the DRAM module world which may interfere with certain CPU air coolers so if RT or RS modules are to be considered then make sure they are compatible with your cooler and case combination.
Like all Corsair RAM modules, the Corsair Vengeance RGB RS & Corsair Vengeance RGB RT come with limited lifetime warranty, reliability and compatibility you would expect from a leading DRAM manufacturer.