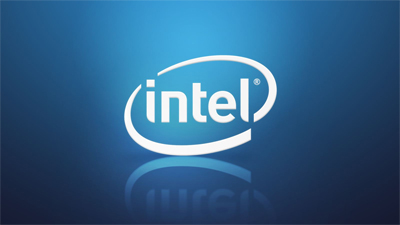 Intel, the world leader in CPU sales is due to release a new generation of processors codenamed Haswell. These are the 4th Generation CPU's following the popular 3rd Generation CPUs codenamed Ivy Bridge. There is plenty of leaked information on the net about these new chips but for the purpose of this article we are going to discussing H81 Vs B85 Chipsets.
All socket LGA1150 motherboard will support some new features in some way or another such as native display port, new integrated graphics but there are some core differences between the H81 and B85 variants in much the same way as there were differences between the old H61 and B75 chipsets. A good way to see the new chipsets is to see the H81 chipset as a refresh of H61 and B85 as a refresh of B75.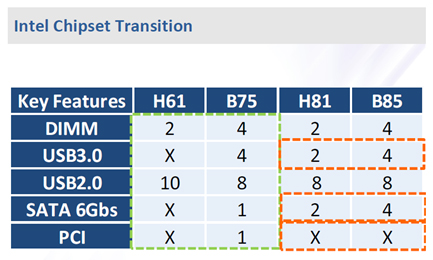 Number of Dimm slots
H81 and B85 chipsets will follow the same route as the older H61 and B75 chipsets. H81 gets 2 Dimm slots and B85 gets 4, it's hardly exciting but expected. The only real impact this will have on most is the amount of RAM you can install to these boards. Mainstream RAM comes in a maximum of a single 8GB module so the max RAM you can install to a H81 chipset will be 16GB.
Native USB 3.0 ports
Finally the entry level Intel chipset, H81, gets 2 USB 3.0 ports as standard. A feature greatly missed from its predecessor. B75 chipset gets 4 meaning all Intel 4th Generation chipsets, H81, B85, H87 and Z87 will all sport USB 3.0 right out of the box which will hopefully push the USB 3.0 adoption rate up.
USB 2.0 ports
The downside of the new USB 3.0 ports means that the H81 chipset looses 2 USB 2.0 ports. Hardly any great shakes......who on earth would use that many anyway?
SATA 6Gbs
The new chipsets get loads more SATA 6Gbs ports, notably 4 times the amount for B85 boards and from zero to two, for the H81 boards. Considering practically every hard disk out there utilises SATA 6Gbs this feature is long overdue and owners of these boards are not going to be limiting themselves with 3Gbs ports.
PCI Slots
Gone! As a custom builder this one is quite interesting, it means we can't use PCI cards in our systems. It's not too much of a problem as the only PCI expansion card well sell is the Creative Soundblaster Audiology and we expect that most people don't have PCI devices as they have started fading out over recent years. It is however certainly something owners or pre owners must be aware of.


This article of course discusses the native differences between the two chipsets. Motherboard manufacturers such as Asus and Gigabyte, like we have seen in the past, will be doing their own variants of the native features.


It means that there will probably be a H81 motherboard with 4 Dimm RAM slots or a B85 board with a PCI slot for the guys that need a now legacy PCI slot for their £150 Asus sound card.