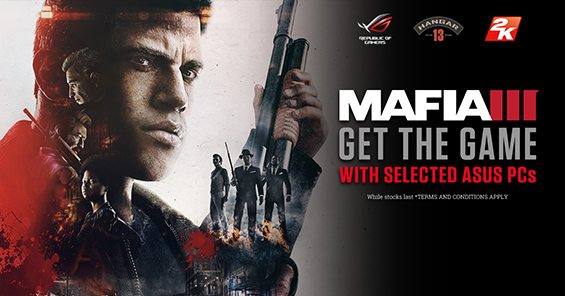 UK Gaming Computers and Asus have in true epic fashion once again joined forces and have put together another great free PC game bundle. Buy one of our qualifying systems and you will receive a copy of Mafia 3 PC Game completely free.
Game Details
It's 1968 and the rules have changed.
After years of combat in Vietnam, Lincoln Clay knows this truth: family isn't who you're born with, it's who you die for. Now back home in New Bordeaux, Lincoln is set on escaping a criminal past. But when his surrogate family, the black mob, is betrayed and wiped out by the Italian Mafia, Lincoln builds a new family on the ashes of the old and blazes a path of military-grade revenge through those responsible. Intense gun fights, visceral hand-to-hand combat, white knuckle driving and street smarts will all be needed. But with the right crew, tough decisions and some dirty hands, it's possible to make it to the top of the city's underworld.
What you get
A Digital download code sent to your order email address, which can then be redeemed via the Asus website for Mafia 3 full PC game completely free of charge.
How To Qualify
Simply purchase any Custom PC from us that has a qualifying Asus Motherboard.
What you need to do
In short nothing until we ship your PC. After your PC is dispatched we will email you your code which can be redeemed directly via the Asus Website. Full redemption instructions will be in this email.
This promotion starts on 7/10/16 and will run until 26/12/16 or until stocks last. Orders placed outside of this period do not qualify. You can clarify if your order is applicable by reading the description after your motherboard choice in the confirmed specification drop down list - Qualifying orders will state "[Free Mafia 3 PC Game]". If this is not present then your order does not qualify. One code per system.
These qualifications are defined by Asus and cannot be adjusted in anyway. Once you receive your code we recommend that you redeem it within a couple of days as they will expire shortly after the promotion ends.