With the release of the Nvidia GeForce GTX 680 a resounding success there has been much anticipation for the rumoured Nvidia GTX 670.
So what do we actually know about it
From collating information from around the web, not much is concrete. Nvidia is yet to lift the NDA on the GTX 670 so everything at this stage is all hear say. There have been pictures floating around of supposedly what this card will look like and conflicting evidence as to what speeds it will run at.
So what has been said?
The main info floating around seems to point to Videocards.com, who have come up with the following;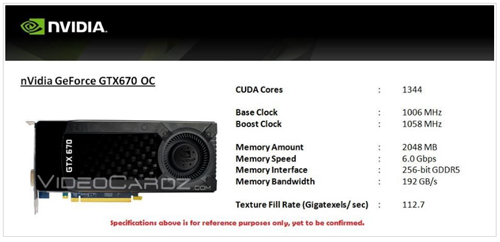 They claim the information has been leaked by a well known reseller and the information can be trusted. Annoyingly, this appears to be an overclocked version and to our note, has a similar base clock to the rampant GTX 680. Direct on their site they rumour the standard 670 looks like this;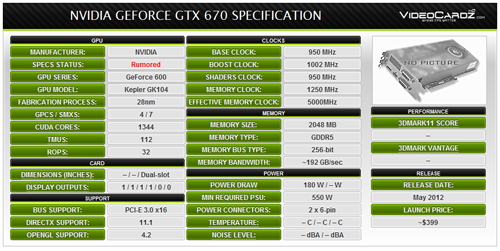 This looks a little more like it, however in our opinion the core clocks look a little high still. The launch price is apparently around $399 which if these clocks are true would be a bargain compared to cost of a Nvidia GTX 680.
Looks
There are various images of a MSI branded 670 appearing all over the place. This is what we have seen;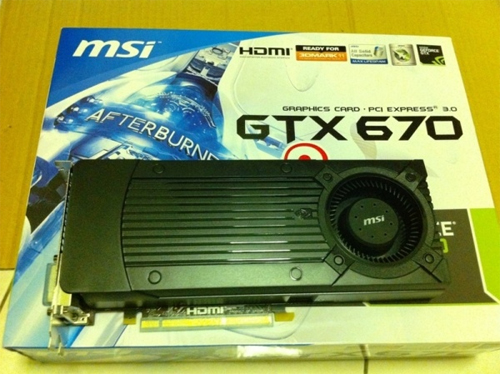 The biggest change visually is the size of the PCB, its actually only looks like it only makes up about 70% of the card width. The remaining 30% is taken up by the addition of extra cooling in a similar way to how the Zotac GTX 560 is cooled. The PCI-E Connectors revert back to the same kind of style we are used to see where they are placed next to each other rather than on top of each other which we saw with the GTX 680.
What we think
Clock speeds seem to be a little high in our opinion. A core clock of 950Mhz is just too close to what the GTX 680 is. We would estimate a core clock for a stock model to be around 915Mhz with a boost to around 980Mhz.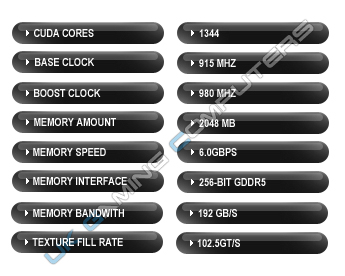 Performance
If the GTX 670 actually gets released whatever the speed, its going to be a damn quick card. How it compares to a GTX 680 is going to be the question on everyone's mind. Whilst we or anyone else cant tell you how well a 670 compares to a Nvidia GTX 680 we can take an educated guess. We recently setup a system to benchmark the Nvidia GeForce GTX 680 which comprised of the following spec:
Intel Core i5 3570K @ 3.4Ghz
Nvidia GTX 680 @ Stock speeds
Asus P8Z77-V LX Motherboard
8GB Corsair Vengeance RAM
Corsair Force3 120GB SSD
Corsair TX 650W PSU
Corsair H80 CPU Cooler
Antec 1100 case
We used the latest 3D Mark 11 and set it to run a basic performance test at 720p The total 3D Mark score for this rig with the GTX 680 was a whopping P8229! If the Nvidia GTX 670 were to exist, run at the clocks we have basically guessed and was installed in the same rig we would expect the 3D mark score of around P7174. That's around a 13% performance drop.
As much as we like to speculate, we wont know what the deal is until the GTX 670 is actually released and we will be sure to update you then. As soon as the GTX 670 comes out (if it does) they will be finding their way into our custom PC range immediately.