Wireless Card
If you need wireless capabilities then you will want one of these network cards.
Which one you opt for will depend on what speed you choose which will of course depend on your uses. As a general rule of thumb if you only want it to access the internet then a Single 2.4Ghz band 150 - 300 Mbps option will do. 300 Mbps is the equivalent of 300 Mbps internet connection which is considered pretty fast so if your internet connection is say 72 Mbps then a 300 Mbps card is way more than you would need. You only really need faster if you are transfering large files over the network such as from one computer to another or perhaps downloading a large video file from your mobile phone.
The exception to this rule is if you are using the system in a built up area - very roughly we would define a built up area as being able to see 3 wireless networks in the location of where the system is going to be. As well as other wireless networks built up areas also have more devices that utilize the same radio frequency as a wireless networks - wireless phone handsets, microwaves, baby monitors, wireless headphones & speakers, radio controlled toys, car alarms & garage doors are a few examples and these can all effect the performance of a wireless network. It is likely you don't have control over some of these devices or even know of their existence and it results in a very crowded wireless network environment. When this is the case we recommend you opt for a "dual band" wireless card that operates on the 5.0Ghz frequency - this is a much less crowded frequency and has many more "channels" that significantly reduce interference.
Naturally in order to utilize the 5.0Ghz range you must have a modern router or access point capable of running on 5.0ghz - Most modern routers made in the last 5 years are dual 2.4Ghz and 5.0Ghz band.
Coverage on 2.4Ghz & 5.0Ghz is similar, 2.4 GHz (802.11n) standard covers up to 820 ft which is the same as 5.0 GHz (802.11ac). Again, there are exceptions, 5.0 GHz (801.11a) for example will only cover up to 390ft however we only sell 802.11ac or better so this doesn't matter. The caveat is that 2.4Ghz is better at penetrating solid object such as walls so depending on where you are your millage may vary however the beauty of dual band is you can choose between 2.4Ghz and 5.0Ghz, single band you cant.
Wireless cards that have built in Bluetooth require a spare USB 2.0 Motherboard header, these can often be populated with case USB ports, Corsair Hydro cables. If there are not enough ports on the motherboard then the Bluetooth functionality of the wireless card will come disabled.
USB Bluetooth 5.0 adaptor
Leave the cables behind with a Bluetooth 5.0 standard USB adpator. Connect your bluetooth speakers, headsets, phones, tablets, keyboards, mice, controllers, printers, cameras, if its got bluetooth you can connect to it! Backward compatible with Bluetooth 4.0.
Technical Specifications

| | |
| --- | --- |
| Data Transfer Rate | 20M |
| Compliant Standards | Bluetooth 5.0 |
| Interface | USB |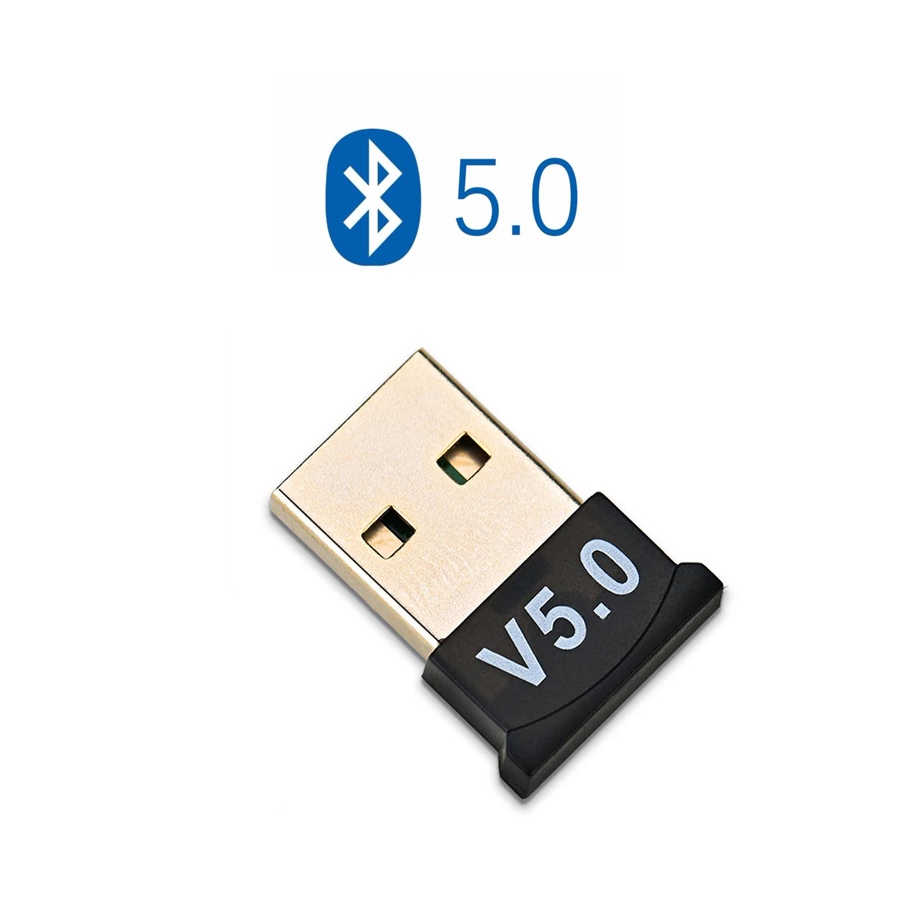 Asus N10 150Mbps ***FREE UPGRADE TO TP LINK 300Mbps***
The ASUS PCE-N10 is designed to provide complete end-to-end wireless performance from the server or server backbone to the switch infrastructure and down through to the desktop with the PCI Express connector. The PCE-N10 Wireless-N PCI Express Adapter provides wide compatibility, fitting with any standard PCI Express slot, x1, x2, x8, or x16. Compared with standard PCI network cards, it offers increased bandwidth, reliability and more functionality, allowing you to enjoy a fast and advanced connection, such as downloading, making internet calls and video streaming.
Technical Specifications

| | |
| --- | --- |
| Data Transfer Rate | 150 Mbps Single Band 2.4Ghz |
| Compliant Standards | IEEE 802.11b, IEEE 802.11g, IEEE 802.11n |
| Interface | PCI-E | Gigabyte WB1733D-I 1733Mbps and Bluetooth 5
2x2 802.11ac Dual Band WIFI + BLUETOOTH 5 card GC-WB1733D-I is an exclusive PCIe expansion card that offers support for the latest 2x2 802.11ac 160MHz Dual Band WIFI and BLUETOOTH 5 connectivity. Includes external antenna.
Technical Specifications

| | |
| --- | --- |
| Data Transfer Rate | 1733 Mbps + Bluetooth 5.0 Dual Band 2.4Ghz & 5.0Ghz |
| Compliant Standards | IEEE 802.11a/b/g/n/ac, 802.11d, 802.11e, 802.11h, 802.11i, 802.11w; 802.11r, 802.11k |
| Interface | PCI-E - Requires 1 x USB 2.0/3.0 internal motherboard header for Bluetooth (Bluetooth will be disconected in favour of other USB devices if not available) |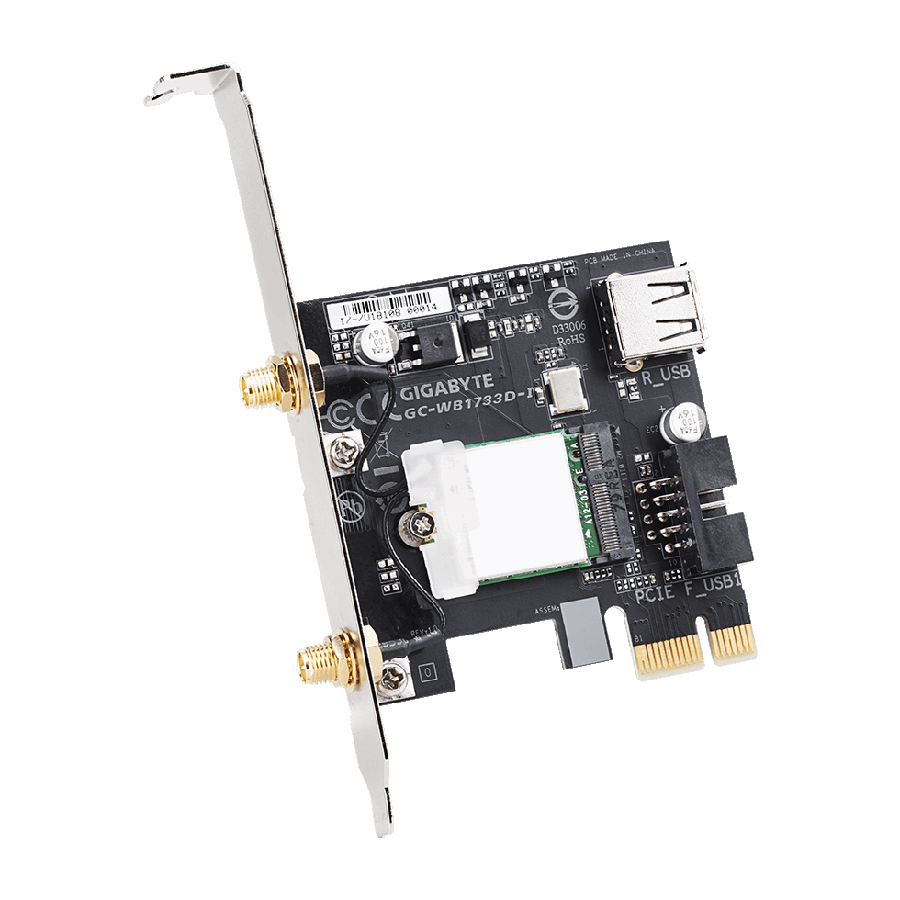 Asus AX3000 WIFI 6 2402Mbps & Bluetooth 5
With WiFi 6 (802.11ax) technology and wide 160 MHz bandwidth, ASUS PCE-AX3000 delivers wireless speeds that are up to 2.7X faster than WiFi 5 (802.11ac) devices. A revolutionary combination of OFDMA and MU-MIMO technologies ensures the most efficient WiFi connection for your PC.
Slot ASUS PCE-AX3000 into your PC for an instant upgrade to the latest Bluetooth 5.0 technology. You'll benefit from the convenience of wireless connectivity with a wide range of devices, including speakers, headphones and game controllers, plus transmission speeds that are up to 2X faster – and with up to 4X-greater range.
ASUS PCE-AX3000 comes with the latest WPA3 Wi-Fi security standard, providing your PC with an extra layer of protection against external attacks to give you added peace of mind.
Technical Specifications

| | |
| --- | --- |
| Data Transfer Rate | 2402 Mbps Dual Band 2.4Ghz & 5.0Ghz |
| Compliant Standards | 802.11a, 802.11b, 802.11g, 802.11n, 802.11ax (2.4GHz), 802.11ax (5GHz) Bluetooth 5 |
| Interface | PCI-E |