Case Fans
Standard computer case fans can, well....a bit on the bland side. Spice them up and enhance the visuals of your custom PC or quieten them down! Not only are they great looking but even the LED fans are often quieter than stock fans and flow more air, perfect for overclocked and fancy looking machines. Unlike most LED fans on the market our range actually move air and are nice and bright!
You can also find a selection of quiet fans here. If you are looking at customising a system to be as quiet as possible then check out the dB rating of our Quiet fans.
A good guide for choosing the amount of fans is that the more fans there are the less work each fan has to do to move the same amount of air and thus the quieter they will be. This often results in customers maxing out the amount of fans a case will accommodate. Please check how many fans you need for your case.

RGB = 1 Colour at any one time - Choose these if you are looking to add say Blue, Red, Green, Purple, orange etc fans to a build.
ARGB = Any individual LED any colour at any one time - Choose these if you are looking for "rainbow" like LEDS or fans that display effects and patterns in adition to the funtion of RGB fans.
Silent/Quiet = Quieter than normal fans - Choose these to reduce the noise levels of a system
Bt default a case will come with the number of fans shown in the case more info button. If you only want certain fans replaced or additional fans added, please select the number you require and specify exactly which fans you want changed/added during the checkout process in the "Add Comments About Your Order" box otherwise we will make the best decision for your PC.
1 x Arctic F12
Not everyone wants fancy LED fans. A simple 120mm case fan to either replace existing fans, reduce fan noise or to max out the amount of fans possible on a case. An Excellent Value for money choice.
Technical Specifications

| | |
| --- | --- |
| Colour | Black |
| Size | 120 x 120 x 25mm |
| Air Flow | 53 cfm |
| Noise Level | 23 dB |
| Bearing Type | Fluid Dynamic Bearing |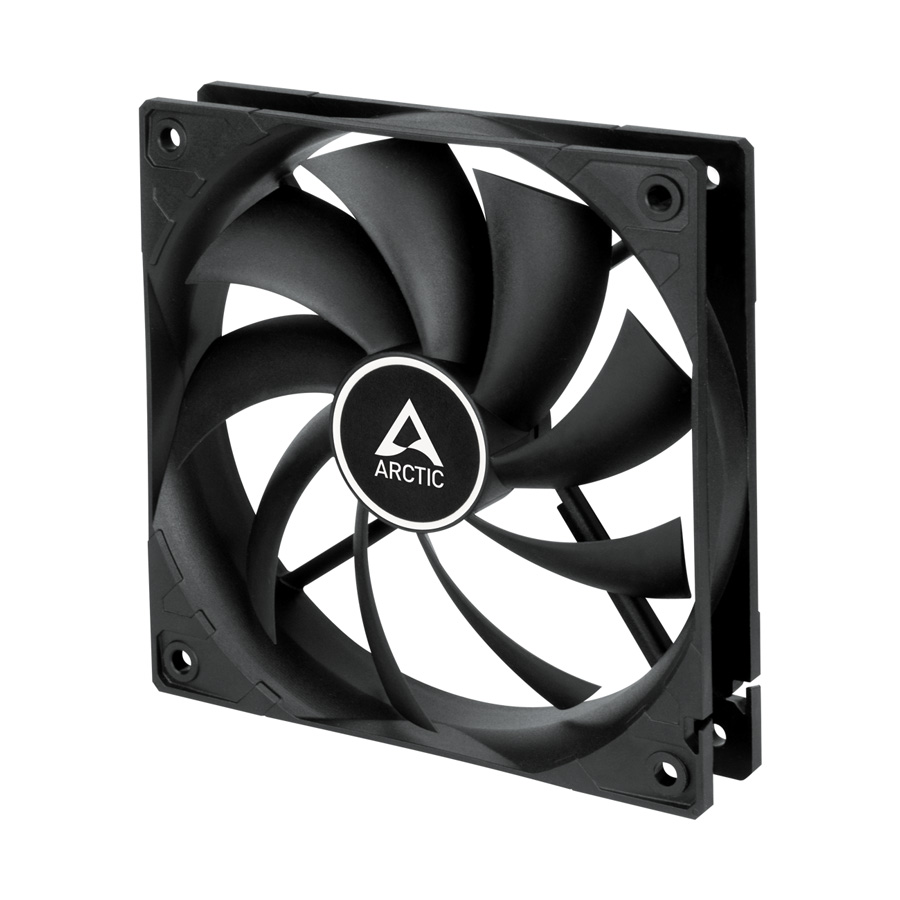 1 x GameMax Haze ARGB LED & Controller
The new GameMax Haze 120mm ARGB fan provides a specific air-cooling solution for CPU coolers and chassis' With 15pcs addressable ARGB LED's built in to the frame it provides vibrant colours to be displayed around your chassis.
Access even more colour options by connecting to a compatible ARGB hub or motherboard using the 5V addressable 3pin AURA connector which is included with the fan.
The GameMax Haze is an hydraulic bearing silent fan with a noise level of approximately 25dBA, not only does this fan look great when lit up, it also has the perfect blend of technology to cool your chassis and components quietly.
In line with the GameMax ethos this case offers style, performance and the ultimate experience.
GameMax Haze fans incorporate non propitiatory ARGB lighting which can be controlled via motherboard software, case buttons or dedicated remote controller - UK Gaming Computers will connect and if possible sync GameMax Haze fans with the best available control method.
Technical Specifications

| | |
| --- | --- |
| Colour | ARGB LED - Infinite amount of lighting colours and effects |
| Size | 120 x 120 x 25 mm |
| Air Flow | 53 CFM |
| Noise Level | 25 dB |
| Bearing Type | Hydraulic Bearing | 1 x Game Max Storm Force RGB LED & Controller
Todays computer users are constantly pushing the boundaries or performance whilst wanting a unique look to their computers. With this increase in performance comes the need for more effective and efficient cooliong systems, the Game Max Storm Force RGB LED Cooling Kit with it's advanced Hydraulic bearing fans give increased airflow and reduced noise levels, but also give the user a choice of upto 16 million colours and mutiple lighting effects, allowing for a unique look to their computer. The fan rubber gasket also helps in the reduction of vibration noise from the fan movement.
Contolled via remote, case or motherboard software depending on controller avilability for each specific system.
Technical Specifications

| | |
| --- | --- |
| Colour | Full RGB |
| Size | 120 x 120 x 25 mm |
| Air Flow | 41.4 CFM |
| Noise Level | 21 dbA |
| Bearing Type | Hydraulic | 1 x Noctua Quiet NF-P12 REDUX
Specifically designed for pressure demanding applications such as CPU or radiator cooling, the classic NF-P12 is a long-standing favourite among enthusiast users around the world and helped to found Noctua's reputation as a top-tier manufacturer of premium quality quiet cooling components. The new redux edition reissues this award-winning model in a streamlined, accessibly priced package that has been reduced to the essential core: the NF-P12 premium fan. Its industry grade SSO bearing, over 150.000 hours MTTF rating and full 6 years manufacturer's warranty make the NF-P12 redux a proven premium choice that provides trusted Noctua quality at an attractive price point. The 1300rpm 3-pin version is ideal for efficient case ventilation or other applications that demand an even balance of performance and quietness.
Technical Specifications

| | |
| --- | --- |
| Colour | Grey |
| Size | 120 x 120 x 25 mm |
| Air Flow | 54.3 cfm |
| Noise Level | 19 dB |
| Bearing Type | SSO Bearing |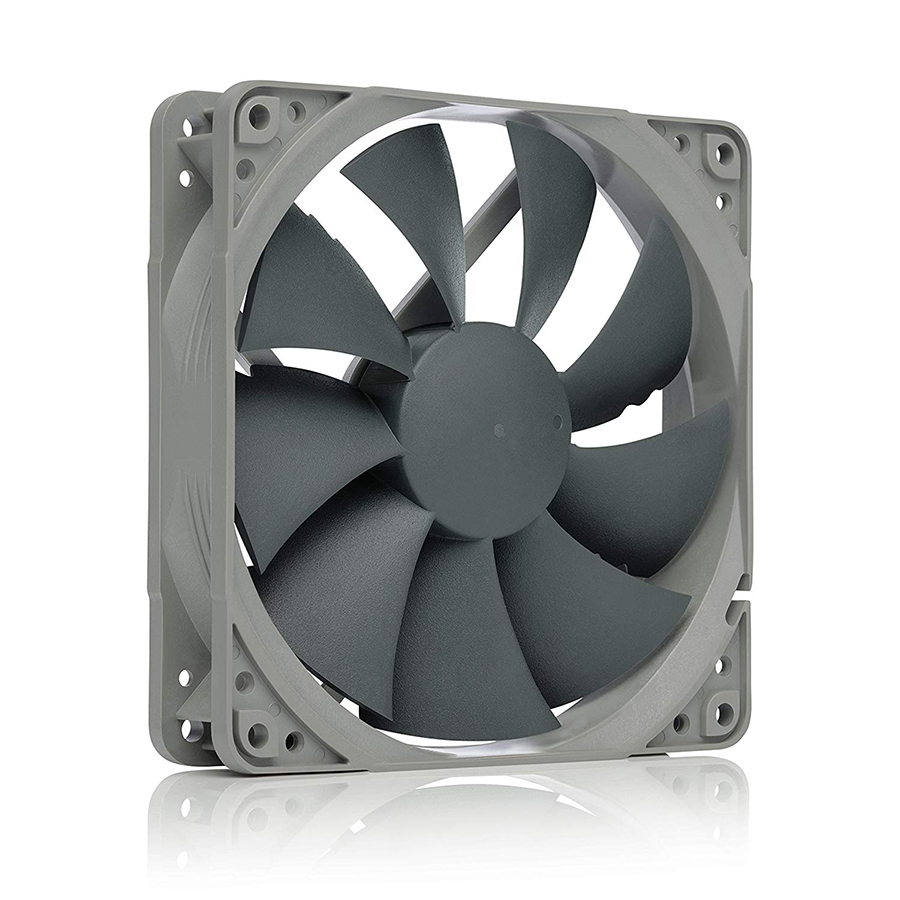 2 x Corsair LL120 RGB LED & Controller
The CORSAIR LL120 RGB LED PWM fan boasts 16 independent RGB LEDs across two separate light loops to create vibrant lighting and visual effects. 
Technical Specifications

| | |
| --- | --- |
| Colour | Black frame with Dual RGB Light Loops |
| Size | 120 x 120 x 25 mm |
| Air Flow | 43.25 cfm |
| Noise Level | 24.8 dBa |
| Bearing Type | Hydraulic |