Motherboard X399 TR4
The motherboard is responsible for controlling everything in a computer. A high quality motherbard is the foundation of building a good PC, start off with something below par and your CPU, RAM, graphics card and other devices will bottleneck and you will find you will not be getting full performance.
Each motherboard we use in our computers are all of the upmost highest quality. We have tested hundreds of them to make sure what we choose is the right choice for your PC the result is not only a great foundation for a PC but gives superb performance, lastability and are future proof for upgrades later down the line.
This X399 Chipset TR4 socket support AMD Threadripper processors, perfect for workstations and high end gaming.
ROG Zenith II Extreme Alpha
High-end desktop processors have greater power requirements due to the abundance of cores and memory channels. The latest Threadripper evolutions are particularly demanding, so intelligent VRM design and quality components are vital – especially for overclocked CPUs that live closer to the edge of stability. Accompanied with our critically-acclaimed UEFI and AI Suite tuning utility, ROG Zenith II Extreme offers an accessible range of manual tweaking tools, plus a highly-configurable auto-tuner that maximizes system control and performance with no expert knowledge required.
Technical Specifications
Socket Type
Socket TRX4
CPU Support
AMD Threadripper
Max Supported RAM
256GB
RAM Technology
DDR4 (Quad Channel)
Expansion Slots
4 x PCIe 4.0 x16, 3 x M.2
Chipset
AMD TRX40
Multi GPU Support
AMD 3-Way CrossFireX, NVIDIA 3-Way SLI
Rear Ports
2 x RJ-45, 1 x S/PDIF (Optical), 4 x USB 3.2 Gen1 Type-A, 4 x USB 3.2 Gen2 Type-A, 1 x USB 3.2 Gen2 Type-C, 1 x USB BIOS Flashback Button, 2 x WiFi Antenna connectors, 5 x Audio 3.5mm
Internal I/O connectors
8 x SATA III - 6Gb/s, 1 x TPM Header, 2 x USB 2.0 Header, 2 x USB 3.2 Gen1 Header, 2 x USB 3.2 Gen2 Header ,1 x USB BIOS Flashback, 2 x RGB, 2 x ARGB, 1 x DIMM.2 Slot
Integrated Features

ProCool II Connectors
M.2 Heatsink
5-Way Optimization
ROG SupremeFX Sound
Asus Aura Sync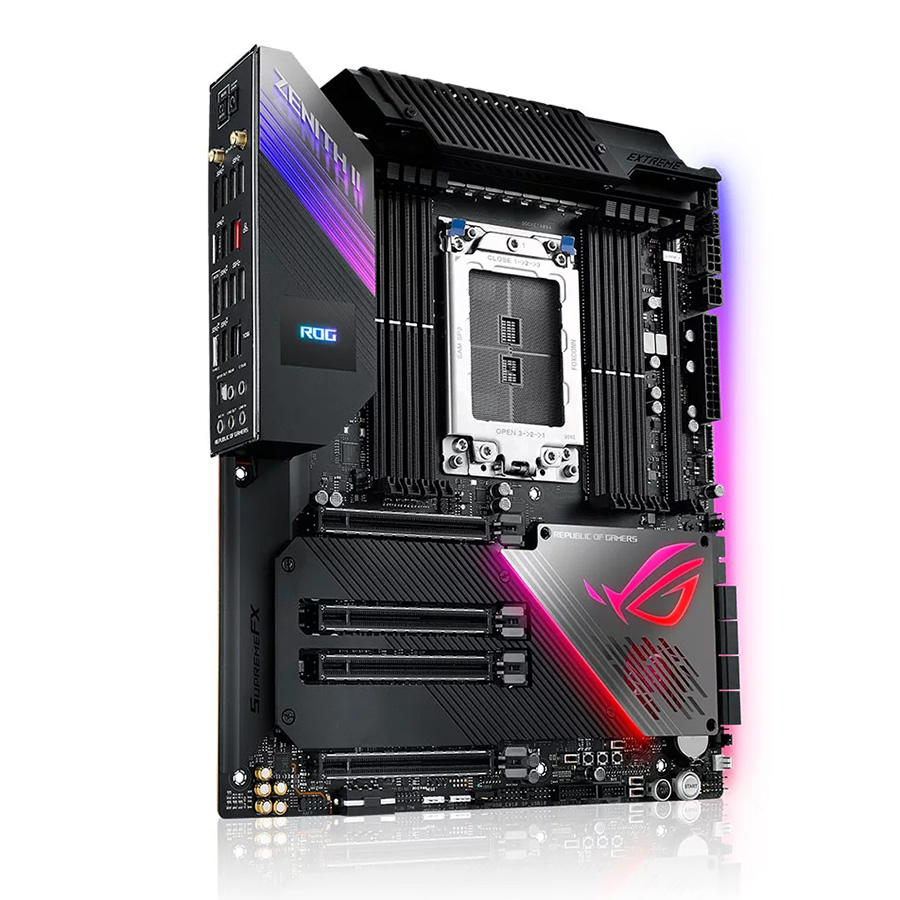 Asus PRIME TRX40-Pro
ASUS Prime TRX40-Pro is expertly engineered to unleash the full potential of AMD's latest high-core-count processors for content creators, designers and professional use. Combining a robust power design, comprehensive cooling solutions, ultrafast PCIe 4.0 connectivity and intelligent tuning options, the high-end desktop motherboard delivers the performance and stability needed to turn every creative vision into reality.
Technical Specifications
Socket Type
Socket TRX4
CPU Support
AMD Threadripper
Max Supported RAM
256GB
RAM Technology
DDR4 (Quad Channel)
Expansion Slots
3 x PCIe 4.0 x16, 1 x PCIe 4.0 x4, 3 x M.2
Chipset
AMD TRX40
Multi GPU Support
AMD 2-Way CrossFireX, NVIDIA 2-Way SLI
Rear Ports
1 x RJ-45, 1 x S/PDIF-Out (Optical), 6 x USB 3.2 Gen1 Type-A, 3 x USB 3.2 Gen2 Type-A, 1 x USB 3.2 Gen2 Type-C, 5 x Audio 3.5mm
Internal I/O connectors
8 x SATA III - 6Gb/s, 3 x System Fan header, 1 x T_Sensor Connector, 2 x USB 2.0 Header, 2 x USB 3.2 Gen1 Header, 1 x USB 3.2 Gen2 Header, 1 x Water Pump+ Connector, 2 x RGB, 2 x ARGB
Integrated Features

ProCool II Connectors
M.2 Heatsink
5-Way Optimization
Asus Aura Sync