Motherboard X399 TR4
The motherboard is responsible for controlling everything in a computer. A high quality motherbard is the foundation of building a good PC, start off with something below par and your CPU, RAM, graphics card and other devices will bottleneck and you will find you will not be getting full performance.
Each motherboard we use in our computers are all of the upmost highest quality. We have tested hundreds of them to make sure what we choose is the right choice for your PC the result is not only a great foundation for a PC but gives superb performance, lastability and are future proof for upgrades later down the line.
This X399 Chipset TR4 socket support AMD Threadripper processors, perfect for workstations and high end gaming.
Asus PRIME X399-A
ASUS Prime X399-A is the EATX motherboard that's been expertly engineered for professional content creators and power users who work hard by day and play harder by night. This powerful, innovative board puts a friendly face on advanced enthusiast controls, enabling you to maximise performance, cooling and personalisation with ease. So, if you live to create, explore, and to push the boundaries, look no further than the Prime X399-A.
Technical Specifications
Socket Type
Socket TR4
CPU Support
AMD Threadripper
Max Supported RAM
128GB
RAM Technology
DDR4 (Quad Channel)
Expansion Slots
4 x PCIe 3.0 x16, 1 x PCIe 2.0 x4, 1 x PCIe 2.0 x1
Chipset
AMD® X399
Multi GPU Support
AMD 4-Way CrossFireX, NVIDIA 4-Way SLI
Rear Ports
1 x LAN Port (RJ45), 2 x USB3.1 Gen 2, 8 x USB3.1 Gen 1, 5 x Audio Jacks, 1 x USB BIOS Flashback, 1 x Optical Audio Out
Internal I/O connectors
1 x Cover Fan Connector, 1 x Q_Code, 1 x U.2 Port, 2 x RGB Headers, 2 x USB 3.1 Connectors, 2 x USB 2.0 Connectors, 2 x M.2 Sockets, 6 x SATA 6Gb/s Connectors, 1 x CPU Fan, 6 x Chassis Fan
Integrated Features

5-Way Optimisation: One click, system wide tuning
M.2 Heatsink
Asus Aura Sync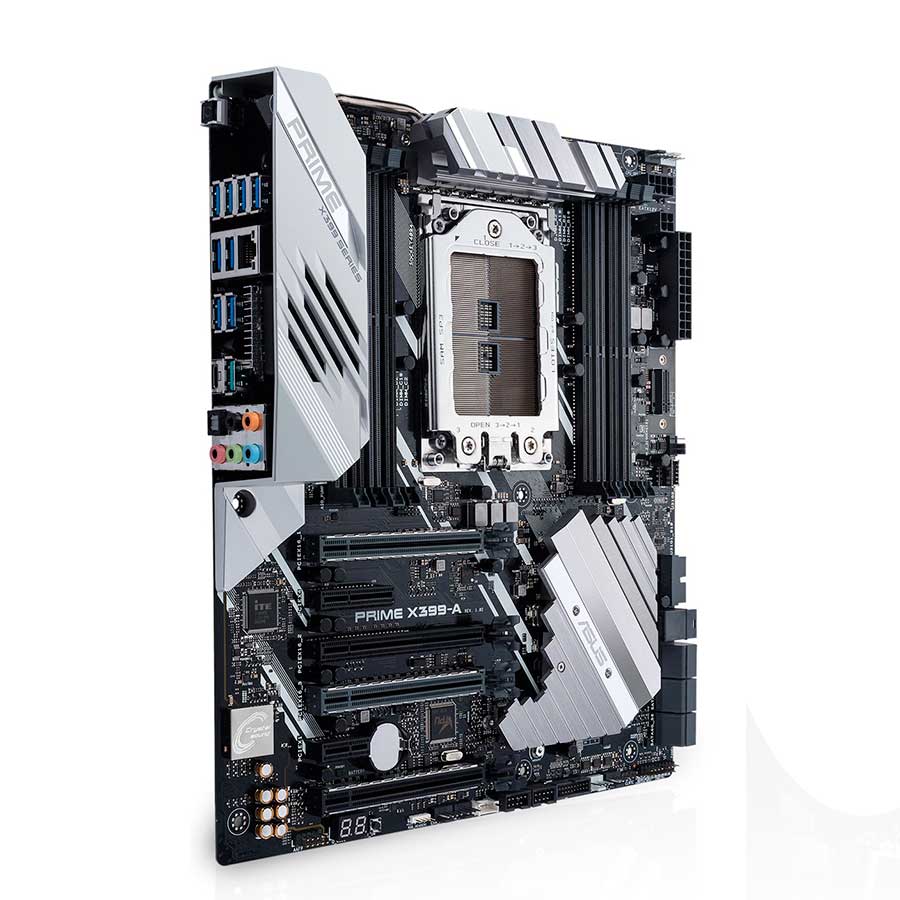 ROG Zenith Extreme
More than a decade ago, ROG started with the original Crosshair motherboard for Athlon 64 FX CPUs. Our history began on AMD's high-end desktop platform, and now with its X399 chipset & Ryzen Threadripper CPU, we have ROG Zenith Extreme. Named after the highest point in the celestial body, the new Extreme brings advanced overclocking, cooling and lighting together to push the limits of dream builds. ROG Zenith Extreme is locked, loaded and ready to rip.
Technical Specifications
Socket Type
Socket TR4
CPU Support
AMD Threadripper
Max Supported RAM
128GB
RAM Technology
DDR4 (Quad Channel)
Expansion Slots
4 x PCIe 3.0 x16, 1 x PCIe 2.0 x4, 1 x PCIe 2.0 x1
Chipset
AMD® X399
Multi GPU Support
AMD 4-Way CrossFireX, NVIDIA 4-Way SLI
Rear Ports
1 x LAN Port (RJ45), 2 x USB3.1 Gen 2 Ports, 8 x USB3.1 Gen 1 Ports, 1 x Optical Audio Out, 5 x Audio Jacks, 1 x USB BIOS Flashback, 1 x Asus 2x2 Wi-Fi and Bluetooth Module
Internal I/O connectors
1 x Q_Code, 1 x Aura Addressable Strip Header, 1 x U.2 Port, 2 x RGB Headers, 2 x USB 3.1 Headers, 2 x USB 3.0 Headers, 2 x M.2 Sockets, 6 x SATA 6Gb/s Connectors, 1 x CPU Fan Connector, 6 x Chassis Fan Connector
Integrated Features

Support for Addressable Light Strips
SupremeFX Gaming Audio
5-Way Optimisation: Automated system wide tuning
Asus SafeSlot and Premium Components