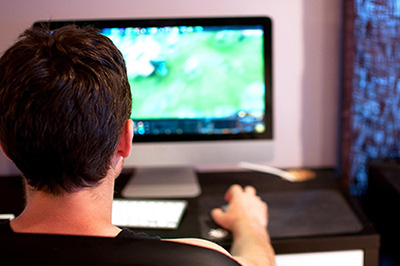 UK Gaming Computers have been getting quite a few emails recently from the autistic and disabled communities out there asking if firstly we can help building them or a son/daughter/friend/relative a swish new gaming PC and how we perhaps differ from the other plethora of options out there. We have gathered these emails and replies and put together a little article summarising everything.
So can UKGC help?
In short yes. We build custom and gaming PC's day and day out so supplying a system a little different or more specific is nothing new to us.
In that case, why UKGC?
We understand that a custom PC is just that, custom! As mentioned above, each and every PC we design, build and test is designed and built to every single customers needs and requirements. This "more than just a PC" attitude means it does not matter if you need to make sure the system is say more durable than normal or perhaps has a specific design feature, we do it anyway as standard.Here are a few examples
Quality
Since day one we have always believed in a no corner cutting trait. We are not tied to specific ands or manufacturers and won't go signing any "you scratch my back" kind of deals. It means we are completely 100% free to test out any component we so wish to see if it cuts the grade. The result of this means we can design and build systems made from components that are chosen, from the largest possible choice pool, for their merit rather than being forced to sell them because of some "deal". Don't get me wrong, these deals are always landing on my desk but we decided to remain independent and totally un-bias towards our component choice.
The end result is that you will always see our systems transparently listed with the exact makes and models of each and every one of our systems components so you know exactly what you are buying.
There are no unanded parts used in our systems meaning our systems perform faster, quieter, more reliably and are more upgradable than nearly every other option out there.
Reputation
This "quality before quantity" ethos means we are the UK's best gaming PCbuilder in the UK and probably the world. We are very proud of that and will be keeping it that way.
Durability
Ok, so this system maybe for someone that has a habit of perhaps giving a PC a little thump now and again. Us ensuring that a quality case is used the system will be able to take a little more punishment than perhaps normal. Ok, it's not going to withstand some kind of uce Lee round house but it's nice to know that our systems can take more punishment than normal.
Design and customization
Can I be the first to say that everyone is particular about how their PC looks so it doesn't matter if the user is autistic, has ADHD, OCD or a fetish for a particular colour we make sure every single system we do is finished to the best possible standard.
For example something simple like a wonky case badge may really upset a user with autism or Asperger's Syndrome, we know this and make appoint of checking case badges on cases however we also know that even if the user doesn't have a disability or leaning difficulty it's still going to potentially bother them.
At the same time some users may want a specific colour combination of something whether it be a certain coloured lighting kit, aided cables, custom case paint or perhaps coolant fluid colour. We offer the most of these kinds of visual choices than anyone else out there right on our site at the time of ordering. If there is something that a user may partially want which isn't listed, then we will do our very best to match that request.
Reliability
Our systems are as reliable as a PC can get. Whilst it may be a minor inconvenience if the average user's computer has an issue it can seem like the end of the world should that user be autistic. Likewise if the user has a physical disability, sending a system back for repair could present far more inconveniences than that of an average user. The reliability trait stems from using good quality components in the first place but we also completely and utterly go to town when we test a system after it has been built. We always stress test each and every one of our PC's far more than a real world will exert, and more than those "other choices" out there. Some don't even test the systems other than switching it on! Not only does this reduce eak downs but it also ensures that when that system comes out of the box on day one we are confident it will do what it is mean to do. Imagine trying to explain that their new swish PC has arrived only for it not to work correctly and them not to understand.
Support
UK Gaming Computers evolved from an IT support company so our level of support is of that level. We help users with a masters in computer science and 40 years experience in the industry right through to someone who has absolutely no clue when it comes to computers. We tailor how we respond to you based on your knowledge so if you want us to cut the techno babble and talk to you in English we can and do.
Our support aim is to get you up and running or solve the problem as quickly as possible and so are happy to promptly walk you through steps to get to the bottom of a query over the phone, email or chat system rather than just saying "send it in" every time meaning it completely reduces downtime of your computer.
Warranty
We are that confident in our systems we offer a 6 year warranty as standard. No one else comes close to that amount of time. We also won't sit on a repair for days and weeks on end. If the worst were to happen it means that your system is fixed and tested as quickly as possible ensuring you get your system back as soon as possible.
Upgrade service
UK Gaming Computers are not here just to sell you a PC. As mentioned in this article we design systems with upgradability in mind meaning we want to you to be that pleased with your initial purchase that you come back to us in a few years for us to upgrade it for you. Very few companies out there offer that service. Plus, we are going to be the best guys for the job as we know the system. A system that is designed with here and now performance that neglects upgrade potential is destined for the bin after only a few years use.
Speed
We like to do things efficiently around here. Custom built PC's have a estimated 5-10 working day build and test time as standard meaning you haven't a several week wait for your new computer. We also offer a priority build and test service for when you want to get your hands on a new rig a soon as possible along with our pre built computerswhich are available to you next day.
Delivery
When your system is finished we email you requesting a delivery date. Things can change in the time you ordered your PC and when its ready to ship – There is no "get it out of the door" when it's done and the only heads up you get is to say it's on its way and will be with you tomorrow. Deliveries get missed like that and can lead to unnecessary delays.
Returns
Custom made PC's cannot be returned to any retailer if it is not faulty. So if you change your mind, chosen something you didn't want or something is annoying you then we offer a 30 day refund policy – no questions asked.