Why Buy From Us?
This is a really important question that any potential customer should be looking to find out from any potential supplier, the market is full of custom PC retailers so leaning where to put your hard-earned cash is vital. Whilst we appreciate this page may be quite a long read, there are quite a few industry secrets here and we guarantee its probably the most important thing you will read before you make a purchase.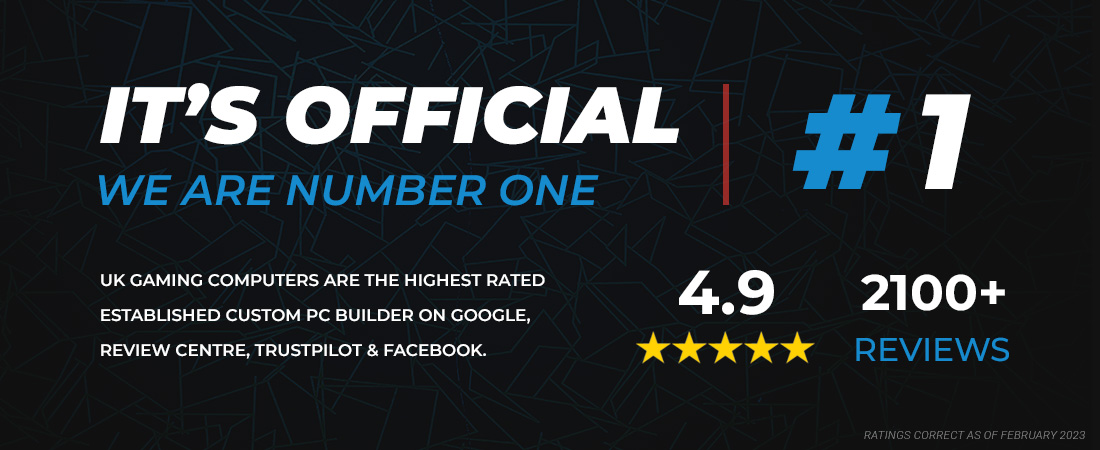 Reputation
We are going to lay this one down first, anyone can say we are this and that but without any substance behind it, any claim is just going to be words and unfortunately nearly everyone out there is claiming something that is simply not true and it's very hard for you as a potential customer to understand much of the technobabble and the claims made. Realistically there are two ways to actually know how good a potential company is;
Reviews with industry magazines and websites and reviews from actual customers.
In short, a system or company review with a industry expert looks great and to a certain extent is going to be relatively accurate however in a world of social influencing, money talks and the gaming pc industry is no different. Don't get us wrong, we have a plethora of industry awards and reviews and like any system builder are very proud of them, its an industry recognition from a varying level of expertise that what we are doing is right however in order to get that nice glowing system review or social media drop us retailers have to pay for it in an indirect way. If people knew paying for a system review with a magazine or news website directly will instantly remove much of the reviews credibility, so as a system builder we are "invited" to buy advertising elsewhere in the reviewer's magazine or website. No review is done "free" and without paying for advertising elsewhere with the reviewer a system review is simply not going to happen. This raises a few eyebrows as it does skew industry reviews and awards somewhat - reviewers simply will not publish a review on a system that is poor in the fear that that the supplier will not come back with more money for more "advertising" which ultimately either leaves reviews somewhat skewed or its the result of "another go" based on the reviewer's feedback.
It is because of this very reason we feel that past customer reviews are only real way to make a judgement on a company's reputation. Plus, you are getting feedback from real customers like yourself rather than someone who is writing something for a living and therefore it's probably more applicable to a real customers situation. Anyway, we smash these real-world customer reviews out of the park, Google, Facebook, Review centre and Trustpilot - we are leading the charts and have done so for many years since our birth way back in 2009.
If you want to see what past customers have said, check out our reviews here.
Ethos
UK Gaming Computers evolved from our love of building custom computers back in 2009, it effectively started as a hobby for our managing director whom is still at the helm of the company today, that hobby turned into a side venture for another company that eventually branched out to UKGC's establishment in 2009. That ethos from day one never changed;
"When I started UK Gaming Computers I wanted to show the world that a pre built custom PC does not have to be a load of preparatory overpriced and poor quality junk that you find with many if not all of the big retailers. I had spent years on the community forums and in a tech support role to see first hand what some of these companies were putting out there and felt that consumers were basically being ripped off. I wanted to bend the rules and make a difference so that the world of PC gaming and custom PCs could be the go to choice for enthusiastic gamers like myself." 
Quality, Value/Price, Customer Knowledge, Reliabilty, Support, Research & Long Term Customer Relationship are our values;
Quality
Here at UK Gaming Computers we only use the best, most reliable, enthusiast grade components that we wouldn't, and don't, think twice about putting in our own personal PCs. The parts we use are from recognised, established manufacturers which are subject to our strenuous evaluation process. We are lucky to be able to try out all of the latest kit, and if a component impresses us, it is likely on its way into a UKGC system.
We often see other computer brands not specifying exactly what make and model of components are being used, which usually translates to cheap, unreliable parts which nobody wants.
Compare that similarly priced PC to ours again, who makes the power supply, case and RAM - See how non descript it is or completely lack that information? Furthermore, each individual PC that leaves our workshop goes through our strenuous testing process, so, combining that with the quality of components we use, you can be sure that the likelihood of there being problems when the PC reaches you is very low!
We also ensure under no circumstances ever, that we supply systems with non-preparatory components and every system we sell is designed with upgradability in mind.
This philosophy ensures we have the lowest return rate in the industry, and the highest customer rating on review sites – something we are very proud of.
Value/Price
We hate the term price, as a price to price comparison we may seem more expensive than other PC manufacturers, however when taking into consideration the extra cost of the premium components that we use, we will in fact be better value for money. In most situations, like with most of our pre-built range, you will find that we sell PCs for a good chunk less than you could actually build the PC for yourself. 
We are also not looking at trying to beat the spec and price of a system that comes from a retailer that you may find at a local retail park, we think the industry and consumer knowledge has now worked out those kind of systems are and remain to be undesirable preying on customers that simply do not have the knowledge to make an educated purchase, we also look to compete with the online retailers that do not have a brick and mortar store all over the UK.
If you do find a PC which matches one of our specifications for less money, send us over a link and we will be happy to beat the price!
Customer Knowledge
Knowledge is everything when it comes to custom made computers. We believe that helping to educate a potential customer will help them make an informed purchase. Ultimately, we want a customer to feel comfortable in their purchase with us rather than a purchase that is either under spec and not up to the desired task or over spec meaning they have spent way more than they actually need.
We publish as much logical information over our website as possible in varying levels of technical blurb so that whatever your level of knowledge of custom pc's is known there is something you can relate to;
It maybe our simple ratings system where we score systems out of 11 to give a rough indication as to how good a system is at a specific task. This would appear to be relatively rare in our industry and the ones that exist do tend to be exaggerated which is kind of pointless as its only going to lead to disappointment when the system finally arrives. We were the first system builder in the UK to implement such scale.
It may also be our more detailed helpful benchmarks which gives customers another indication of how well a system will perform in certain games or programs. Again, we were the first in the UK to implement this scale and this has finally seen much more of an uptake in our industry over recent years however like the ratings scale is massively abused and many retailers will again exaggerate benchmark scores. We use an independent benchmark repository from howmanyfps. 
It could be our very detailed system specification list we publish on every system that shows exactly what parts are in our systems - many manufacturers omit this and we make a very strong point about it. You can see on our website that we list say RAM as "32GB Corsair Vengeance RGB DDR5 5600MHz" whilst other manufacturers may list RAM as something like "32GB" or "32GB DDR5 5600Mhz" which leaves what you will actually receive very open to interpretation and its where many manufacturers hide behind technical system specifications to hide true costs and substandard parts. We have covered this in great detail here and if you can only ever read one buying guide this would be it.
Each and every one of our component choices will display a more detailed drop-down spec when you click on it further revealing even more information about a component choice.
Each and every one of our component choices also has a more info button which brings up a new window massively detailing each component choice.
Whilst you will find all this lovely information directly on our website we are also more than happy to speak to customers over the phone, email or in our showroom to help them make the right choices for their needs and budget. When you contact us, you will also be speaking to an engineer directly, unlike most places, we do not employ sales people. You will often find, and its mentioned in many of our reviews, customers will come to us with some ideas, budget and a system in mind only for us to directly them to a much cheaper system as that will also meet their needs. We are here to supply what you actually need not what we want to sell you, we belive it builds trust and a longer lasting relationship where you will recommend us to a friend, write us a nice review, come back to us for an upgrade or even buy another system from us. 
Reliability 
Computers need to be reliable. Just because we are supplying a home gamer doesn't mean to say it can be less reliable than something being supplied to the government. Every one of our systems goes through the exact same strict component choice and testing. Much of our solid reliability comes down to our component choice and what we covered in our quality section - build it with the right parts and its more likely to be more reliable. However, even with the best component choices out there, parts can and still fail, after all we are dealing with complex electronics hare and we all know how electronics can be.
To ensure our systems can be as reliable as possible we employ a strict testing procedure on every system we supply. The immediate downside is that it takes longer for the product to end up at your doorstep however we won't let anything leave our workshop without it as ultimately it has our brand and reputation attached to it. Whilst we can't reveal our exact testing methodology as its a trade secret and something we believe sets us apart from the rest, each and everyone of our systems will go through a testing procedure of 1 to 17 working days depending on the complexity of the build. Don't panic, typically this is 2-4 working days for most builds but for massively water-cooled systems with overclocking and gigantic amounts of RAM and bespoke work it can genuinely take quite some time. We are baffled when other suppliers state they can build and ship a PC in a matter of a few days, there is absolutely no way they could have possibly tested the system thoroughly before hand.
The result of this, by speaking with distributors and of course how many issues we run into during testing is that we strongly believe we have the lowest return rate in the industry.   
Support
Here at UK Gaming Computers, we pride ourselves on getting the customer the exact PC for their needs, if this means recommending a PC below their budget in order to save them some money then we will do exactly that. When buying a Gaming PC from somewhere like eBay, Amazon, Facebook, retail part retailer and many online builders, you don't get this luxury, all you get is the spec list of varying detail and price.
Even the best computers can have issues, and that is where one company can really stand out from another. Many computer builders will outsource their support to a call centre somewhere abroad, so you'll be talking to someone who doesn't know much about computers and is simply using a flowchart to figure out the best course of action. This often means it works out pretty expensive to sort out issues, as they could be misdiagnosed and you may end up replacing parts that don't need to be replaced. At UK Gaming Computers, we have email, live chat and phone support which are operated by our experienced engineers here at our UK office, so you'll be speaking to the same engineers that are responsible for the building and testing of all our PCs. We also have an abundance of support guides written by these same engineers, which can help guide you through many simple issues and hopefully get them sorted without it costing time or money.
We also have a strong ethos on getting you up and running as soon as possible. We know many suppliers will simply state to box it up and send it back by default which can result in a lengthy delay however we will always try and help via phone, chat or email to try a few things remotely. Of course, if any customer is uncomfortable with checking a connection or installing a bit of software then every customer is welcome to just box it up and send it back but we believe in common sense so if we the issue is relatively simple then we will try to help you diagnose and fix the issue remotely to save you time and inconvenience. In fact, over 8 out of 10 issues reported by customers are fixed remotely and remains a positive experience that we are often commended on.
Oh, we also put our money where our mouth is too. Every new system that we sell, comes with a 6-year warranty as standard.
Research 
In our spare time, we too are gamers and PC tinkerers. Out of work we are playing the latest shooter or playing around with the constant upgrades and changes to our own personal systems. When you contact us and say we are looking for a system to play or run the latest title out there the chances are we were playing that very title a just the evening before and thus know exactly the direction to point you in. It's not just sales where this information becomes invaluable, we often see developers of programs and games that release updates and patches which cause issues and it's not uncommon for a plethora of customers to phone up all on one day to say they have a problem with a title thinking it maybe something to do with the PC only for us to say "yes, me too!"
During work time we are fortunate enough to be involved with playing with new tech and the development of developing tech. Our inner geek is excited when something new lands on our desks that we are yet to have a play with, not only can we work out if it is a product we feel we can add to our systems but also it gives us the opportunity to relay feedback to the manufacturer which can in tern be implemented by the manufacturer. We are commended by our brutally honest feedback and as a result manufacturers do listen and do implement. Its our way of fighting for what the consumer really wants and needs which creates a long and lasting trusting relationship between component manufacturers. Whilst we are not allowed to say exactly what we managed to help with we can say we work and have worked closely with brands such as Asus, Gigabyte, MSI, Corsair, Kingston, Lian-Li, be quiet!, Cooler Master, Fractal Design, Phanteks, Game Max, Zalman, Seagate, Western Digital, Kingston, Kolink, Arctic cooling, Barrow, EKWB, Zotac, Palit, PNY, Cherry, SteelSeries, Netgear, TP-Link, Xilence & Sennheiser. Of course, we supply many other brands of components but we have been involved with all of the above directly to influence product development based on our honest feedback.
Long Term Customer Relationship   
The industry standard is to simply supply customers with a PC and that is the end of it unless a tech support issue arises. We want to build a long-term relationship with everyone of our customers and ultimately we want you to come back.
We are one of the very few system builders that offer a gaming PC upgrade service. One of the core advantages of a custom made computer is that it can be upgraded. Provided the initial PC is supplied with an upgradable motherboard, case, power supply and non preparatory components then core components that make a difference to performance such as the processor, RAM, storage, graphics card, expansion cards can be upgraded later down the line. A system without upgradability in mind will not be able to be upgraded resulting in effectively a brand new system and its probably the core reason why most system builders do not offer an upgrade service.
Every system we sell also comes with lifetime support. Even if a system is out of warranty, we will still help and advise.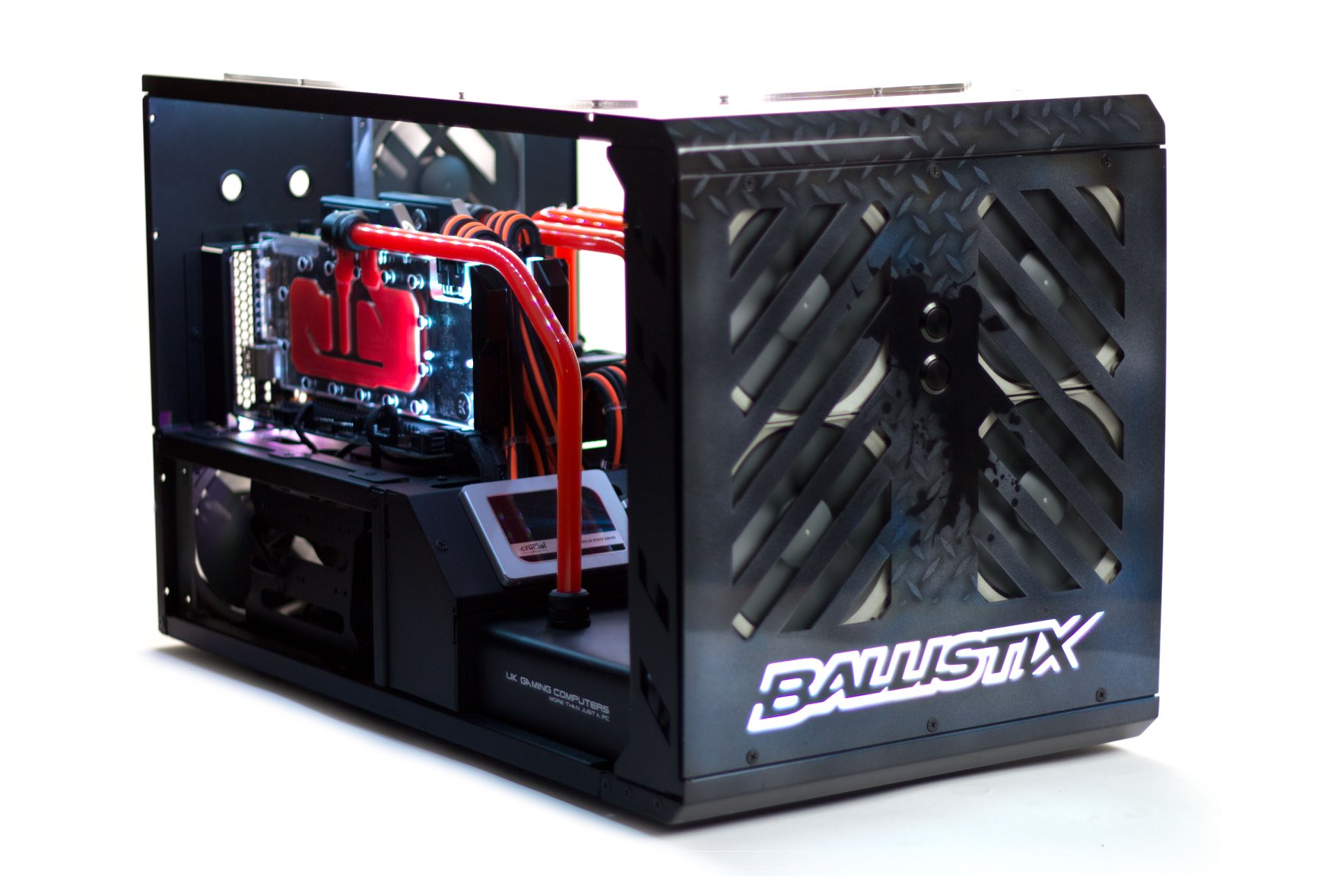 Something Different
Whilst UK Gaming Computers primarily sell custom built computers to the public and businesses through our website, and in store you have probably gathered by now we are different to the other websites you may have already taken a look at. We also undertake bespoke projects which range from custom workstations professionally designed to run a specific suite of software; to custom painted, water-cooled behemoths designed to run anything you throw at it or even marketing systems showcasing a particular brand or product.
We supply businesses and educational facilities on large order scales as well as famous customers such as PewDiePie. If you have an "off the track" idea then let us know and we can see if it's something we can do for you. 
Walk in Customers
Yes there is no doubt the entire world has moved to online shopping over the years, let's face it, its sometime easier and cheaper and to be honest 95% of our business is online. However, we are one of the few system builders who are more than happy to see you in person and have a nice little showroom where we are more than happy to offer advice, help you plan your order from us or supply you with parts there and then. We have had customers from all over the world visit us because they want to do business in person, we have had customs fly directly from as far as Holland and Scotland just to chat to us in person. No appointment necessary although if you are planning a big trip halfway across the country or another then it is worth giving us a quick heads up so you know we can help.   
History
UKGC was formed in early 2009, evolving from Essex based IT Solutions company Megabyte Computing. As well as fixing computers, installing networks they also built custom gaming computers for the local area. These Gaming PC builds got so popular; it forced the birth of UKGC. You will be pleased to know that we have brought a lot of those skills to UK Gaming Computers, so you can be assured our staff will be able to assist with anything you may require. We are a well established system builder that have been around for many years and are not some no name fly by night that will pack up shop a month after your purchase.