We've recently switched out entire range of fittings in our builds over from XSPC to a company you may not have heard of, Barrow. They are based in Shandong China, and were established back in 2010 and has grown to be one of the largest manufacturers of water cooling components in the world. In short Barrow make absolutely everything in the water cooling world and then some. They are known to be one of the best innovators in the industry and with some of their wild and wacky designs it shows. As far as we are concerned their core product range is as good as the likes of EK water blocks, XSPC, Bitspower & Corsair yet do not carry the high price point as say Bitspower or Corsair yet are as good and sometimes better quality.
Before making the switch we had a look at almost every fitting available on the market and were really impressed by a lot of them, especially Bitspower, EK and Corsair. In most cases Barrow was up to the same quality as the other brands mentioned above, and sometimes even better.
Aside from the exceptional quality and price, the colour options were also a reason we decided to switch to these fittings, we previously offered Black and Chrome options, but we had a lot of people asking for white fittings in their build which is a colour that Barrow offers, so we were able to expand our range to include black, chrome and white.
The fittings are packaged very nicely too, each one in a separate Barrow banded bag so you don't get any imperfections from metal on metal contact if they were packaged in bulk packs. The hard tube compression fittings also come with a spare o ring in case you need a replacement, although in the few months we have been using these fittings we have never needed to replace one o ring.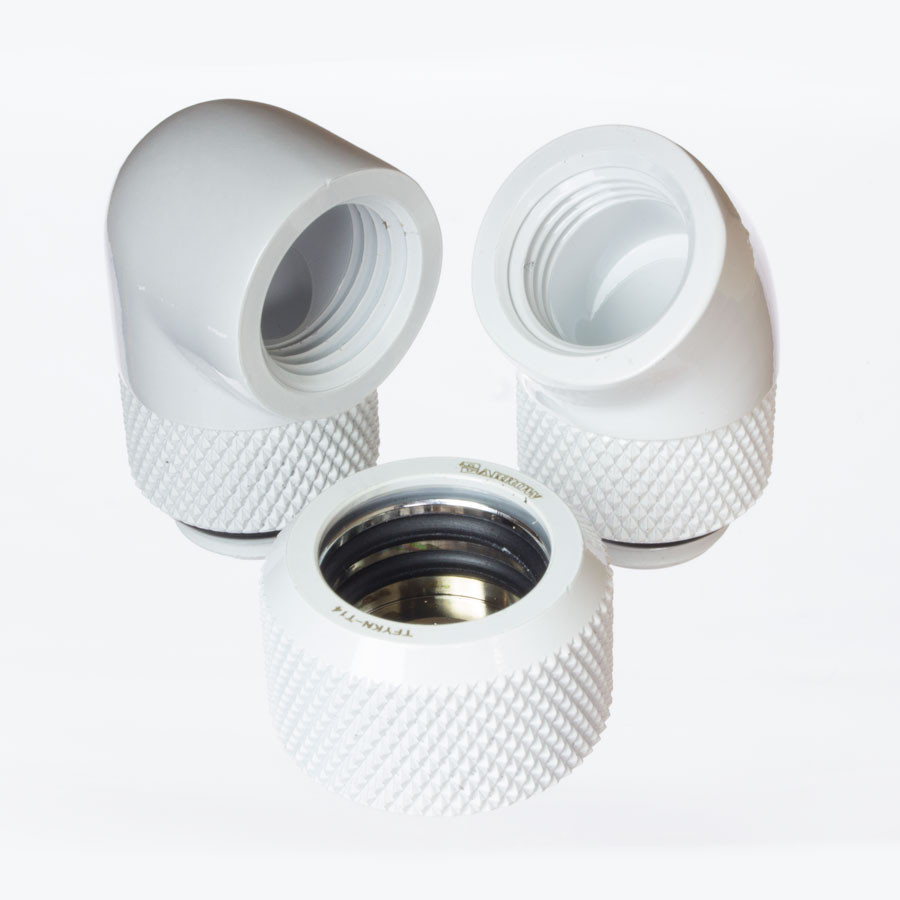 Barrow Choice Compression Fitting 14mm OD For Rigid Tubing (TFYKN-T14)
These are the fittings that we use the most, as most of the watercooled builds we do use 14mm Hard Tubing.
Pros -
Triple seal design, with two inside the fitting and one between the compression collar and fitting.
Grooves on the inside to enable the use of an 8mm allen key to screw the fitting in and out.
Good knurling on the outside making tightening very easy.
Spare o-ring included in the packaging.
Packaged individually to reduce the chance of any scratches.
Cons -
They don't hold the tube as well as some other expensive mainstream fittings.
The finish is slightly more inconsistent than other more expensive options
Barrow Choice Compression Fitting 3/8 ID - 5/8 OD For Soft Tubing (TFHRKN38H)
These fittings are what we use for all of our soft tubed builds, we use XSPC FLX Tubing 3/8″ ID, 5/8″ OD with these fittings and it works perfectly.
Pros -
Good knurling on the compression collar, makes tightening very easy.
Grooves on the inside of the fitting so you are able to use an 8mm allen key to tighten the fitting.
Grips the tube very securely
Packaged individually to eliminate any scratches
Cons -
The finish isn't quite as good as some more expensive options
Barrow 45 & 90 Degree Rotary Adapter (TWT45-B01 & TWT90-V2.5)
These are the angled adapter fittings we use in all of our builds, and we really like them. Compared to the XSPC fittings we sold previously, these are much more reliable and the build quality of them feels a lot more solid with no play at all in the rotary part.
Pros -
The size is good, they fit well with the other Barrow Compression Fittings
Very good build quality
Packaged individually to eliminate and potential damage
Cons -
The rotary part can be very stiff, which is a good thing for reliability but in a tight space you may struggle to do them up. However we found that submerging the whole fitting in distilled water for 30 seconds makes them much easier to turn.
The finish isn't as good as some of the premium options, like Corsair and Bitspower.
Conclusion
The main downside to Barrow fittings is the quality control, where it's not a massive percentage of fittings that have issues, it's definitely a higher percentage than fittings from more mainstream brands like Bitspower and EKWB. The main issue we've seen is imperfections in the painted surfaces on the black and white fittings.
If you're reading this article because you aren't sure wether to go with the much cheaper Barrow option for your fittings over something like EKWB or Bitspower, we'd strongly recommend going with Barrow. The only thing we would suggest is to buy a few more than you think you need, because sometimes it may be difficult and expensive to get one or two shipped to you if you have any issues with them.
If you're reading this article because you're in the process of purchasing an epic watercooled build from ourselves and want to know what the hell Barrow fittings are all about, we hope that this article has given you an answer to that question and we look forward to building your dream watercooled PC in the very near future!