Corsair have always done a good job with their AIOs, and here they are with another one. The H115i uses Asetek's new 6th generation pump which is smaller than the 5th generation pump, which does reduce the size of the CPU block making it look much nicer. They have also opted to route the tubing out of the side utilising two 90 degree rotary fittings which I think looks much better than the previous iteration of the Corsair AIOs with the tubes coming straight out of the top. I made sure to check if there would be any RAM clearance issues with this side exit from the block, but because of the smaller block size it doesn't cause any issues even with RAM that has huge heatspreaders.
The fans that are included as standard are better than what we have seen on any Corsair AIO previously, specifically they are Corsair ML Series 140mm Magnetic Levitation fans, the retail versions of these retail for almost £20 each and they do a great job of pushing lots of air through the radiator without making much noise at all. As this is an AIO made by Asetek it means it has an aluminium radiator and a copper CPU block, this does mean that the closed loop does mix metals but the fluid used inside the AIO is Ethylene Glycol based so there is no need to worry about any sort of galvanic corrosion.
iCue is the software that you'd use to control the pump, fans and RGB on this AIO, which is previously something that absolutely wasn't a selling point as it added almost no benefits, but Corsair have pushed some fantastic updates to the software that give you more control than ever. My favourite being the 0RPM mode that completely disables the fans until the coolant temperature hits 45c, yes that means there is a temperature sensor monitoring the coolant temperature that you can also use in the software to control your fan and pump speed profiles.
The price of the H115i Pro RGB is actually fairly competitive at £132.99, much better than the massive £162.99 price tag on the H150i Pro RGB. While we're on the topic of comparing this to the H150i Pro RGB it's interesting to compare the radiator surface area which is what will control the difference in performance between the two. The H115i Pro RGB has 280x140mm of radiator space equalling 39,200mm², and the H150i with a radiator space of 360x120mm equalling 43,200mm² so there isn't a huge difference, but we'll see how they stack up against each other in the performance testing later on.
- Radiator Size – 280mm
- Radiator Thickness - 279mm
- TDP – Not listed by Corsair
- Weight – Not listed by Corsair
- Socket Compatibility - Intel 115x, Intel 2011/2066, AMD AM3/AM2, AMD AM4, AMD TR4 with additional purchase of TR4 bracket CW-8960054
- Included Fan(s) – 2 x Corsair ML Series 140mm Magnetic Levitation fans
What's in the box?
- Corsair H115i Pro RGB CPU Cooler
- 2 x Corsair ML Series 140mm Magnetic Levitation fans
- Corsair Link cable
- Mounting installation instructions
- Warranty information leaflet
- Mounting hardware for all above sockets
Mounting
The tool-less mounting of the H115i Pro RGB is very easy, the interchangeable mounting brackets on the CPU block is very simple to install and has been improved over the already great Asetek gen 5 design. The rest of the mounting is almost identical to older Corsair AIOs, where you screw standoffs through the board into the backplate. This method makes uninstalling and reinstalling of the cooler very simple.
The radiator being 280x140mm does limit your options in a lot of cases, so if you're thinking about getting this AIO make sure your case supports a 280mm radiator, if not consider the 360mm H150i or the 240mm H100i instead.
The tubing also makes mounting very simple due to the flexibility of the tubing, which does not kink even at tight angles. The included screws are also the perfect length for all common configurations, which shouldn't need mentioning but some other AIOs get this wrong and you risk puncturing the radiator by screwing them in too far.
Aesthetic
I really like the look of the H115i Pro RGB, the tastefully implemented RGB really makes the block stand out without being super offensive and enables you to customise it to fit in with any colour scheme you might have. There are three RGB zones in the block, the logo in the middle and two diffused accents split up by a silvery plastic piece which I think looks great.
The tubing is also something to rave about, not only is it very flexible and doesn't kink making it very easy to install, it also looks amazing as it is sheathed in some sexy black braiding. The radiator continues the trend of how great this cooler looks, with a sleek squared off design sporting a metal Corsair logo nicely placed in the centre of the radiator.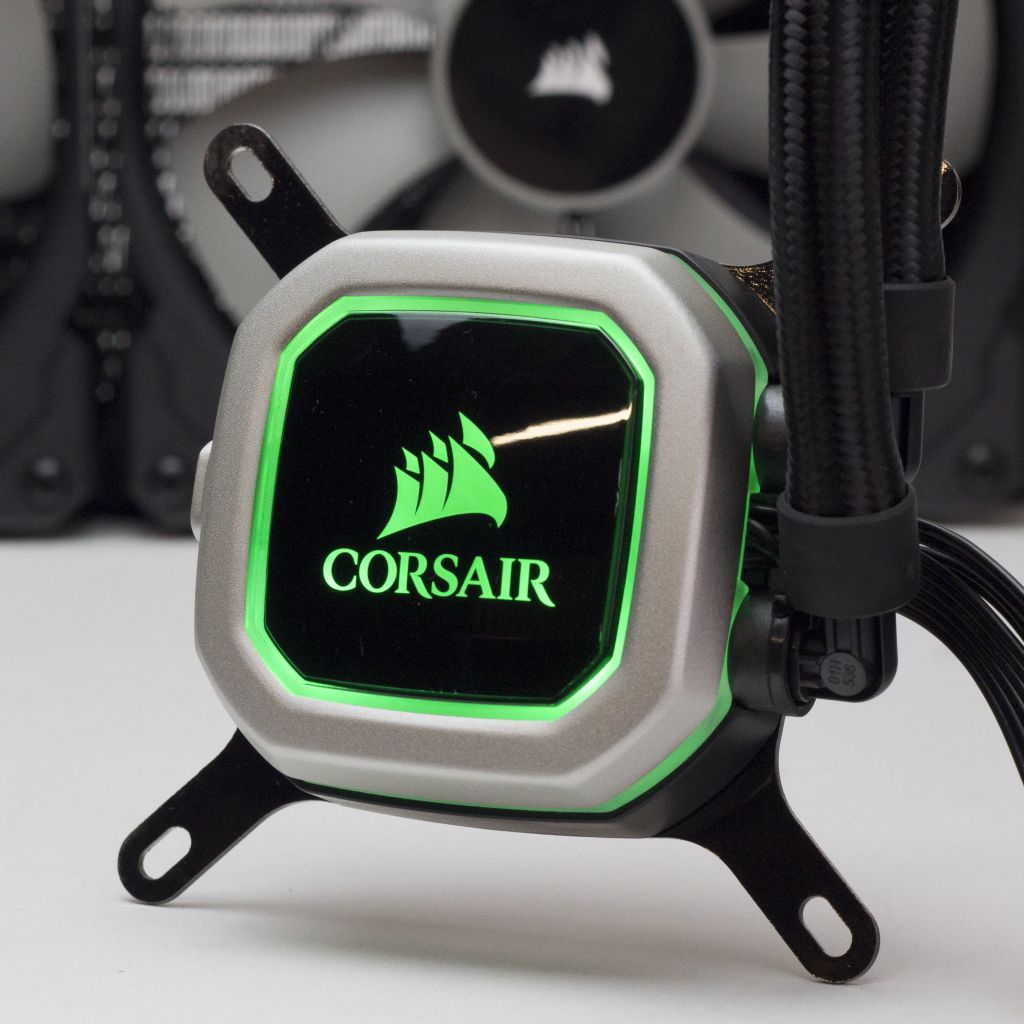 Performance
So, we've established this is a great looking cooler with some fantastic new tech which is also easy to mount which is all great, but if it doesn't perform then none of that is relevant, so let's get on to the performance numbers!
Test System Specs
- Processor - Intel i7 8700k
- Case - CoolerMaster H500P
- RAM - Corsair Vengeance DDR4 16GB 3000Mhz (2x8)
- Motherboard - Asus Rog Strix Z370-F
- SSD - Samsung 860 EVO 250GB
- PSU - Corsair RM750x
- GPU - EVGA GTX 1050Ti
For our testing we use a few difference pieces of software, to stress the CPU we use 3DMark Time Spy CPU Test, Prime95 Blend and Aida64 with CPU+FPU checked which is an AVX based load and pushes the  cooler to it's limits. To record the temperatures we used Aida64's temperature logging function.
We ran my tests with the stock voltage and frequency settings and with an overclock, we managed to get a stable overclock of 5.0GHz at 1.35v which are the settings used for everything marked "OC".
All tests were performed in our lovely climate controlled test room at a steady 21°C ambient temperature. Fan speeds were determined by the motherboard's default setting, don't worry we'll be sure to let you know if it gets too loud. (Spoiler alert: It didn't, no surprise there.)
So, the performance of the H115i Pro RGB definately does have the performance numbers to back up all of the other fantastic features that you get with this cooler. In our testing it performed 1 degree worse than the H150i Pro in both the stock and overclocked tests, for a pretty huge £30 less.
Conclusion
This is probably the most impressed I've ever been by a Corsair AIO, it has features that you wouldn't expect for a closed loop cooler, looks fantastic and has the performance figures to back all of that up! If I was in the market for an AIO and my case supported a 280mm radiator this is absolutely the one I'd go for.
Pros
- Very good performance
- Reasonably priced
- Looks great
Cons
- Radiator size means it is incompatible with a lot of cases