Corsair is renowned for many products from the early days of Memory and PSU's to the present day where they now have added to that range a vast range of cases, peripherals, storage and coolers. Today we take a look at their new cooler, the Corsair H45 Hydro cooler.
A Closer Look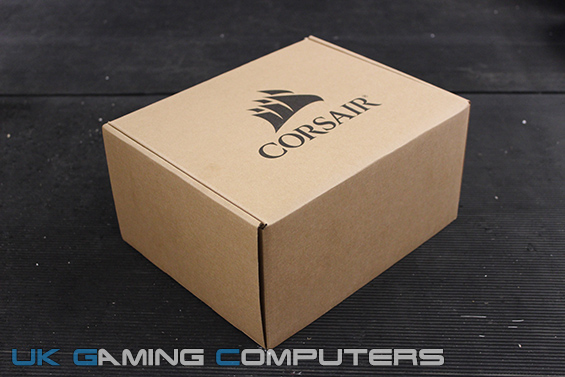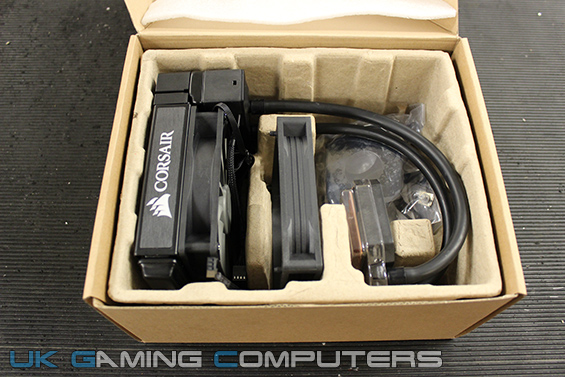 So, this is what we got. It's a bit of a brown box affair but we suspect this is probably because we are the first people to get our hands on it. This may or may not change come launch which is scheduled for mid to late April 2016 however if it does, it is likely it will just be a little bit of external branding and product description rather than anything on the inside. We should also add that the cooling unit itself does come in a clear bag.
Along with the actual H45 you also get the fitting kit for all modern CPU socket types as well as a 120mm x 120mm x 25mm case spacer.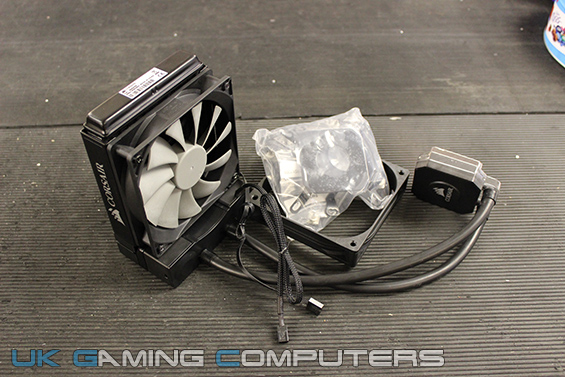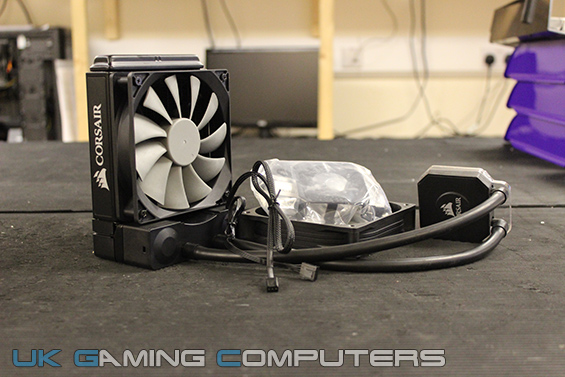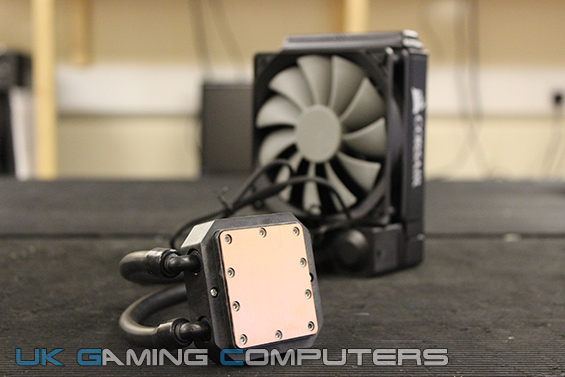 The H45 is, as expected, is very similar to the Corsair H55, H60 and H75 consisting of a single depth (AKA Slim) 120mm x 120mm radiator, black rubber tubing and a CPU block. Like the H55 and H60 it also comes with a single 120mm fan. Fin density on the Radiator remains the same on the H45 as the H60 however the tubing is slightly thinner in diameter externally. For many, you could be forgiven in thinking that this is simply a new H60 and it kind of is, however there is a couple interesting differences.
Firstly it's not made by Asetek or CoolIT who have been responsible for the production of Corsair Hydro coolers over the years, "its someone new" we were told, however it was never declared who. This is quite a bold move considering Asetek and CoolIT have been responsible for producing pretty much everyone's OEM coolers in the past. Perhaps it has something to do with the constant battles between the two firms in a court room, because of the recent trademark dispute over the GT/GTX radiator naming thus forced the rename to "V2" versions or simply because Corsair wanted to look into other options.
The second difference is the pump has been moved, it is no longer built into the CPU block, it now resides close to the radiator end tanks in an "extra" bit of housing.
One other point to consider when taking a look at the H45 is the build materials and the look and feel of the unit as a whole. Compared to other Hydro Series coolers the H45 is definitely at the bottom of the pile. The extra plastic does not do much for the look and feel of the unit and the CPU block is on the bland side. In its own right, its certainly not bad but because existing Corsair Hydro coolers are currently very well made and look great there is definitely a leagues difference.
Cost and purpose
Corsair tells us it is here to compete against the low end all in one water coolers from other manufacturers out there, but at a better price point. There are no formal numbers out there for how much the H45 will sell for but we were told £35 as a rough number which is pretty good considering it's hard to find a H60 under the £60 mark here in the UK.
Installation
Installation is a breeze and is not much different to how current Hydro coolers mount. Within 5 minutes we had it strapped to our Intel Core i7 5820K and Asus X99-A.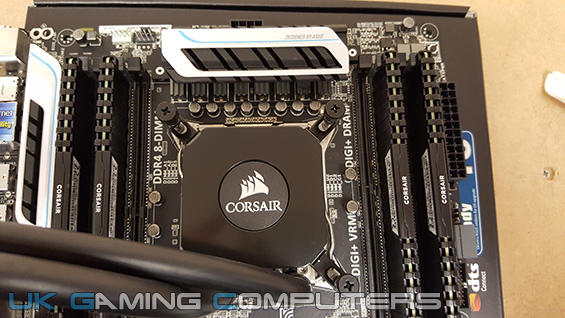 Test Setup
Naturally we were eager to put it through its paces. The low price point and the promise of H60 like levels of performance were encouraging. So we did!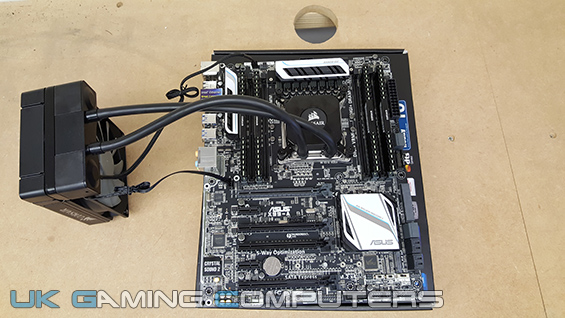 To do so we decided we wanted to use a spicy CPU to really give it a good workout so we set up the following;
Intel Core i7 5820K CPU
Artic Cooling MX-2 Thermal paste
Asus X99-A Motherboard
Corsair RM750x PSU
32GB Corsair Vengeance LPX 2400Mhz DDR4 RAM
Nvidia GTX 980 4GB
250GB Samsung 850 EVO SSD
Microsoft Windows 10
A CPU coolers performance levels are measured by how well it does what it is mean to do – cool CPU's! In order to do this we used HWMonitor to record the CPU temperatures and AIDA 64 extreme's default system stability test to load the CPU for 15 minutes and then record said CPU temperature.
As well as running our tests at stock frequency and voltages we also ran the same tests with 2 levels of overclock;
Overclock 1 – 4.4Ghz @ 1.26V
Overclock 2 - 4.7Ghz @ 1.35V
We are also blessed with a swish climate controlled test room allowing us to maintain the same 20°C ambient temperature throughout the tests and managed to get all tests done on the same afternoon to keep the external temperatures factor variance to a minimum.
As well as using the supplied cooler fans we also ran the same tests using the H60 fan on the H45 and the H45 fan on the H60 for a direct comparison as well as a couple of other decent coolers.
Results
Given that Corsair stated this is a product to compete against the existing Hydro H60 we were naturally interested in a direct comparison too. The results surprised us by quite a bit!
CPU Cooler BenchmarksIdleStock load4.4Ghz @ 1.26v4.7Ghz @ 1.35v0255075100Corsair Hydro H45H45 With 31-000403Corsair Hydro H60H60 With DF121225SMCoolermaster Hyper 212 EVOCoolermaster Hyper 412S2828323033305255585454486268756878747790101880093Temperature (°C)
Out of the box a Corsair Hydro H45 performs 4°C better than a H60 but let's be honest the idle temperatures mean very little, it's the load temperatures, especially the overclocked load temperatures we are all really interested in.
A Stock 5820K is 6°C better off under a H45 than a H60 and Overclock 1 and Overclock 2 test yielded a 13°C and 24°C difference in load temperatures respectively in favour of the H45! That last number is a whopping difference.
Not only does the H45 completely trounce the H60 at high levels of overclock but it also clearly beats a high end air cooler of similar cost in the form of a Coolermaster Hyper 412S by 16°C when tested under a heavy overclock. In the past, high end air coolers have always been better at cooling than a low end closed loop water cooler and this is the first time we have ever seen this switch.
Note: The Coolermaster Hyper 212 EVO failed the overclock 2 test - We stopped the test before the CPU set fire to itself!
The Fans
On comparison the H45 uses a Top Motor DF121225SM and the Corsair H60 uses a Corsair 31-000403. We grabbed their specs.
| | | |
| --- | --- | --- |
|   | Top Motor DF121225SM | Corsair 31-000403 |
| Size | 120mm x 120mm x 25mm | 120mm x 120mm x 25mm |
| Power | 0.45A | 0.24A |
| CFM | 80.6 | 53.61 |
| Noise Levels | 36.5 dBA | 30.85 |
Immediately you can see the H45 is at an advantage over the H60 because its fan moves over 40% more air. It is also worth noting that those 6dBA audio levels translates to 3 times the amount of generated noise and we have to say when the H45 was being worked with its Top Motor DF121225SM fan we certainly knew about it.
To make things fair we swapped fans around to see how much of an influence they had on the main unit.
11°C was the number we were left with both times when trying out the extreme overclock and running the same test with the fans matched which makes the H45 quite a bit better than the H60 when it comes down to the Radiator, pump, coolant and CPU block and it's not just the more powerful fan that makes the difference.
The more moderate level of overclock and stock speeds and voltages were however a closer match but still shows the H45 unit outperforming the H60 but a noticeable amount.
Conclusion
Overall we were very impressed with the new Hydro H45. Corsair has stated that it is clear competition for the other lower end closed loop water coolers on the market, however from what have experienced it's a cut above that grade. It is not only better than its nearest big brother in the H60 but those performance numbers edge on the Corsair Hydro H80i V2 rather than the H60 and let alone other brand low end all in ones.
At a later date we will take it apart to have a look but I suspect much of the advantage of this new unit and design will be down to the pump itself. There is much more room in that end tank which can give lead to a bigger pump. Bigger pumps = Higher flow rate and higher flow rates = lower temperatures. We found that flow rate in open watercooling loops make a significant difference and I suspect this is where much of that 11°C difference has been gained by the H45 over a H60.
The price point further affirms why this cooler should be considered over a H60 or even a high end air cooler. There are no questions that £35 is a steal and puts it in the price point of the likes of a Coolermaster Hyper 412S which is a great cooler in its own right.
The downside is the standard Top Motor DF121225SM H45 fan is noisy. Granted we were running tests that exceed a real world conditions for most but under load you knew it was there. Idle however there was little to choose between a H45, H60 or high end air cooler. If noise is an issue then replacing the fan might be a good idea however it's not like there is no budget left over given its competitive price point.
The only other downside is this is a system integrator only product.....for now. It will not be available for retail in the near future however given how good it is I'm sure it will make its way into the retail market soon.
UK Gaming Computers would like to state that this review is in no way paid for directly or indirectly in anyway shape or form.