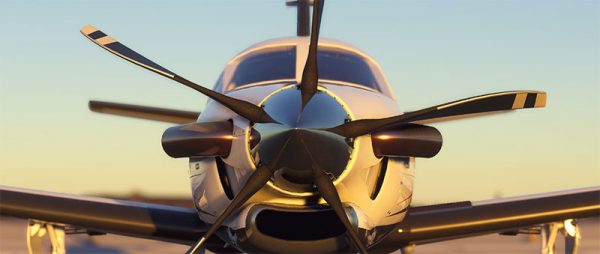 Updated September 2021
Microsoft's new Flight Sim 2020 has been a long time coming and has finally touched down on our PC's. We have spent years Modding, tweaking and playing around with the now 10 year old FSX which has been well up there as the go to Flight Sim title for many. FS2020 brings many new features as well as arguably the best graphics ever to grace a PC, the game looks jaw-droppingly stunning. However because it's that good, in order to run one of the best looking Sims you need one of the best running systems to make it look as good as the creators intended.
Microsoft were kind enough to publish the system requirements (below) to help everyone be able to pick out a system suitable for their needs however like pretty much every system requirements list or table they are either difficult to understand or contain specifications that are simply out of date. We are asked very regularly what system to choose depending on on needs and budget so have decided to consolidate all that information in one place and to help customers understand why we recommend what we do and the logic behind it.

Minimum Specification
Microsoft don't actually list a a remotely modern CPU or GPU in their requirements, the AMD Ryzen 3 1200 came out July 2017 whilst the Intel i5 4460 came out in May 2014 and a AMD Radeon RX 570 first blessed us April 2017 a good 4 years after a GTX 770 which came way back in 2013! If you go out hunting for this spec on modern days, you wont find these parts which is why system requirement lists are always confusing. However, all is not lost, to the trained eye we can work out through performance comparisons and benchmarks where new hardware sits in comparison to these requirements. A good tool for this is its passmark score.
CPU
AMD Ryzen 3 1200 - Passmark Score - 6376
Intel Core i5 4460 - Passmark Score - 4792
So, in order to be able to pick a suitable CPU we need to find a CPU with a passmark score of greater than 4792. Naturally we know what hardware is relevant and thus can refer to said Passmarks scores in order to be able to pick something out. AMD's modern entry level CPU is a Ryzen 3 3100 which has a Passmark Score of 11,776 whilst Intel's Entry level Intel Core i3 10100 scores 8955. Both of these options dwarf the original system requirements and thus should be your CPU of choice when looking to meet the minimum specification.
GPU
AMD Radeon RX 570 - Passmark Score - 6967
Nvidia GTX 770 - Passmark Score - 5893
Right now, technically AMD still produce the AMD Radeon RX 5XX series cards and a RX 570 is an option, however at the bottom of the modern Nvidia pack is a Nvidia GTX 1650 4GB which is far more modern and scores 9827 despite being a similar cost to a RX 570 and thus would be the better choice.
Rest of the Spec
VRAM requirement is smashed by the 4GB of a GTX 1650 whilst 8GB of RAM is kind of entry level here and doesn't require anything more. 150GB, whilst large for a Sim wont be stretching the limits of a 1TB HDD which is regarded as the norm/entry level - You could opt for a 500GB Drive here but they are essentially the same cost.
Recommended systems
For an Intel based system, a Chimera comfortably exceeds the minimum requirements: https://www.ukgamingcomputers.co.uk/chimera-i3-gaming-pc whilst for an AMD based system a Zelus: https://www.ukgamingcomputers.co.uk/zelus-ryzen-3-gaming-pc also comfortably exceeds those minimum system requirements.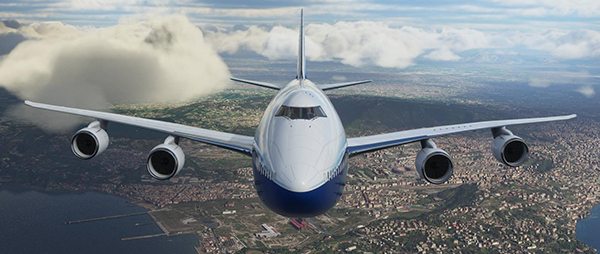 Recommended Specification
CPU
Like the minimum specification we can use Passmark to judge how good a CIRCA 2017 AMD Ryzen 5 1500X and a Intel i5 8400 actually is compared to the new stuff;
AMD Ryzen 5 1500X - Passmark Score - 9074
Intel Core i5 8400 - Passmark Score - 9203
For the eagle eyes among you, the previously mentioned AMD Ryzen 3 3100 in the entry level spec with a Passmark Score of  11,776 still eclipses this requirement and is a good base still for a recommended spec system. If you wanted to wade into the AMD Ryzen 5 offerings then a Ryzen 5 2600 Scores 13,224. Either CPU should form the basis of a system that meets the recommended system requirements
GPU
AMD Radeon RX 590 - Passmark Score - 9492
Nvidia GTX 970 - Passmark Score - 9642
To fulfil the recommended GPU requirement, the chosen card needs to exceed a Passmark Score of more than 9642 and the standout card here is a 6GB Nvidia GTX 1660 SUPER which scores 12,680. AMD don't really have a GPU that competes in this segment of the market so the GPU choice here is an easy one.
Rest of the Spec
FS2020 loves RAM and your system here needs to ensure it has 16GB of RAM. With a Intel Based system this needs to be 2400Mhz or Faster, with an AMD based system this needs to be a 3000Mhz or faster. Again, 150GB of HDD space is obtainable with an entry level HDD or even SSD as is 4GB of VRAM which is met on a 6GB Nvidia GTX 1660 SUPER.
Recommended systems
A Pegasus with a bump in RAM to 16GB 3000Mhz is your first choice: https://www.ukgamingcomputers.co.uk/pegasus-ryzen-3-gaming-computers.
For those venturing into the Ryzen 5 side of things then a Chaos should be the system to look at: https://www.ukgamingcomputers.co.uk/chaos-gaming-computer.
If you want to take the Intel Route then we recommend considering a Morpheus but again bump the RAM up to 16GB 2400Mhz: https://www.ukgamingcomputers.co.uk/morpheus-i5-custom-gaming-pc.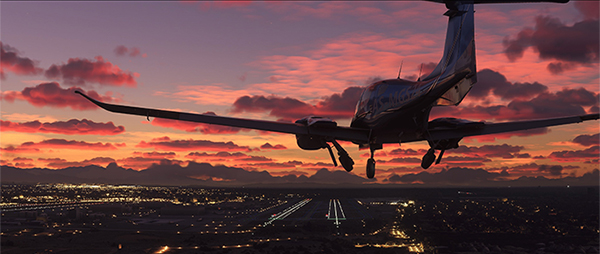 Ideal Spec
Many of our customers will probably immediately jump to this section as ultimately if you want to run FS2020 in all its glory this is where you want to be. Rightly so, FS2020 is a thing of beauty and we personally wouldn't want to run it any other way. Previously we have been treated to some pretty old out of date requirements which have taken a bit of deciphering however Microsoft have treated us to a requirement that is a little more modern this time round, that said, it is still out of date hardware that is either a generation or two past however can still use Passmark benchmark scores to work out where you need to be in relation to new hardware.
It would be safe to say FS2020 is the new Crysis, back when it came out in 2007 it brought the most powerful of systems to its knees and in a way with everything dialled up and switched on FS2020 does too, however Microsoft's new Sim is a little more lenient than Cryteks revolutionary shooter as Crysis was reliant on having a high and stable FPS as where FS2020 has much less of a FPS requirement and there is no need to be able to run it at 100+ or even 60FPS for that matter.
CPU
AMD Ryzen 7 2700X - Passmark Score - 17,585
Intel Core i7 9800X - Passmark Score - 18,274
AMD's Ryzen 7 3700X superseded the 2700X and with a passmark Score of 22,824 is the obvious AMD based choice here. In the Intel corner as modern i7 10700K which scores 19,515 is also a fairly easy pick.
GPU
AMD Radeon VII - Passmark Score - 16,912
Nvidia RTX 2080 - Passmark Score - 18,610
These GPU requirements are not for the feint hearted, whilst these are both older cards, they are still relevant in today's game thanks to a still high Passmark score however they are discontinued and unavailable. Prior to this article updating you would have had to look towards a £750 Nvidia RTX 2080 SUPER 8GB or £1,200 Nvidia RTX 2080 Ti 11GB as the only option, AMD didn't even have anything to compete in this area in the market so you were slightly limited with the route you could take. Thankfully Nvidia have recently launched their new RTX 30 series GPU's which at this end of the market is a game changer. We also have AMD's new 6000 series GPU due out this week which are also contenders however with AMD drivers historically taking quite some time before their drivers work correctly we recommended sticking with the more mature Nvidia options;
Nvidia RTX 3070 8GB - Passmark Score - 21,650
Nvidia RTX 3080 10GB - Passmark Score - 23,835
Nvidia RTX 3090 24GB - Passmark Score - 25,611
As you can see a Nvidia RTX 3070 8GB comfortably eclipses the Passmark score requirement and thus forms the basis of being our recommendation. In Q2 2021 AMD's Radeon RX 6800 or 6800XT drivers will likely be mature enough to be a viable option however for the time being, stick with what we know works.
Rest of the Spec
As mentioned from the recommended specification section, FS2020 loves RAM and you need lots of it here, 32GB as a minimum. Same RAM frequency rule applies here again, 3000Mhz or higher for a AMD based system, 2400Mhz for an Intel bases systems.
The storage requirement continues to remain the same here, 150GB, however Microsoft stipulate here this storage is a SSD and thus you need to ensure you adhere to this. A SATA based SSD or NVME M.2  is perfectly fine, just make sure you opt for something larger than 240GB as a 240GB plus and operating system will make things tight especially as time goes on and expansion packs and mods come out that you may want to install.
Recommended systems
For the AMD route a Phobetor: https://www.ukgamingcomputers.co.uk/phobetor-ryzen-7-gaming-pc with the said bump in CPU to the AMD Ryzen 7 3700X, Graphics card to the RTX 3070 and RAM to 32GB 3000Mhz will see you comfortably hit the ideal spec.
For the Intel route you want to look at the Erebus: https://www.ukgamingcomputers.co.uk/erebus-i7-gaming-pc, no CPU bump required but you still need to bump the RAM up to 32GB.
Final things of note
In order for features like the real time air traffic to work you of course need an internet connection that meets Microsoft's requirements, the ideal spec is technically faster than UK average and you can get away with slower however YMMV. Finally, to make any of the recommended systems fully compliant, you will need to add an operating system to them.