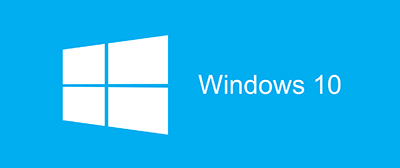 1 – Setting the boot device
For any installation via an Optical Drive you will need to make sure that it is set as your initial boot device in the BIOS. When you turn your PC on, wait for the motherboard manufacturers 'splash' screen to display, this should advise you what key to press to enter the BIOS, which is usually the del/delete key.
Once in the BIOS you need to set the Optical Drive as the initial boot device, you should be able to change this under the boot options in the BIOS. Please consult the motherboard manufacturer's manual if you need help in navigating the BIOS.
When you have the Optical Drive set correctly as the boot you will then need to save and exit from the BIOS to keep the settings.
Likewise if you are installing from a USB device, you should plug the USB device into the PC and turn it on and enter the BIOS, you should then follow the same process to set the USB device as the initial boot device.
2 – Insert the Windows 10 Disk
After exiting the BIOS, insert the Windows 10 disk into the optical drive. The disk should then be automatically read by the Optical Drive and you will be prompted to PRESS ANY KEY TO BOOT FROM YOUR CD OR DVD DRIVE. Once you have pressed any key the disk should start to load the files for the Windows installation. Likewise when installing from USB media you will also be prompted to press any key to boot from the device.
3 – Regional Options
Windows will load up the installation program and the first options to select are the Language, Time & currency format and the Keyboard or input method, you should then be able to set these to your region – English (United Kingdom) in the case of UK Gaming Computers PCs for Language and Time & currency and United Kingdom for the Keyboard or input method.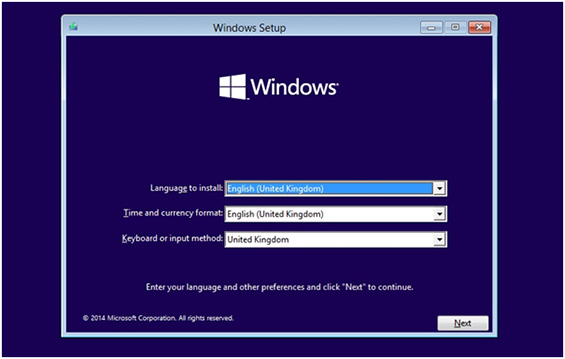 4 – Install Now
The next screen gives you the options to Install now or Repair your computer. In this case we want to Install now as we are doing a clean installation of Windows.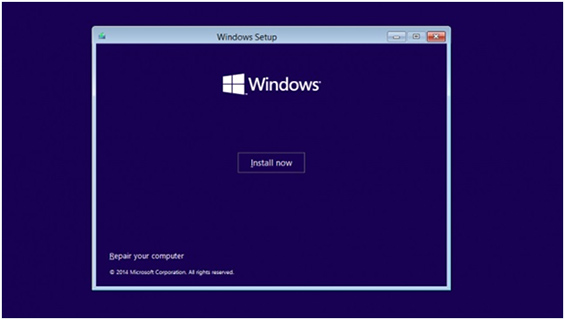 5 – Product Key
This should be quite straight forward, as it is where you input your product key. If you ordered a system from us, then your product key was fixed to the back of your PC.
You also have the option to continuing without a product key, at the bottom of the screen you have the option to click on I don't have a product key, which will continue the installation without the need for further input.
Being able to skip the product key is actually a very useful option to have, especially if you have upgraded to Windows 10 from Windows 7, 8 or 8.1, as you probably won't have a product key and you're old Windows product key won't work. To get round this Windows 10 can be activated automatically by Microsoft without a product code, this should happen once you are connected to the internet as this is done via Microsoft's Digital entitlement process.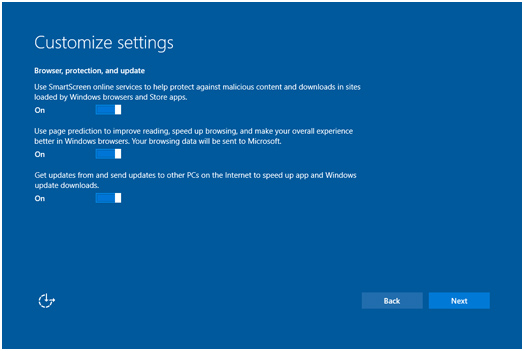 6 – Select the Operating System
The next screen won't always be shown as it will depend on how you are installing Windows. If you are using a Disc or have entered a product key it will automatically know what version of Windows 10 you are installing and therefore won't need any further input, otherwise you will need to select between Windows 10 Pro and Windows 10 Home.
If the wrong one is selected you will find that Windows will not activated via Microsoft's Digital entitlement process, so make sure you select the correct one if you do not have you product key when reinstalling Windows 10.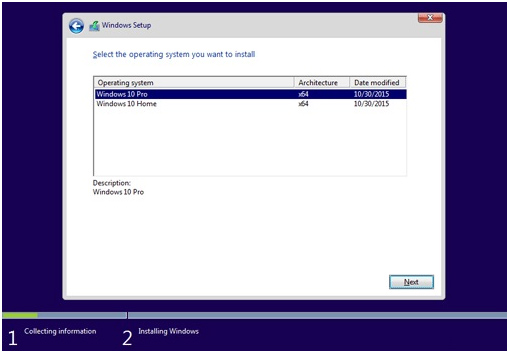 7 – Licence Terms
Next are details of the licence terms that you should read through (if you really feel the need) you will have to tick the box next to I accept the licence terms before you can continue.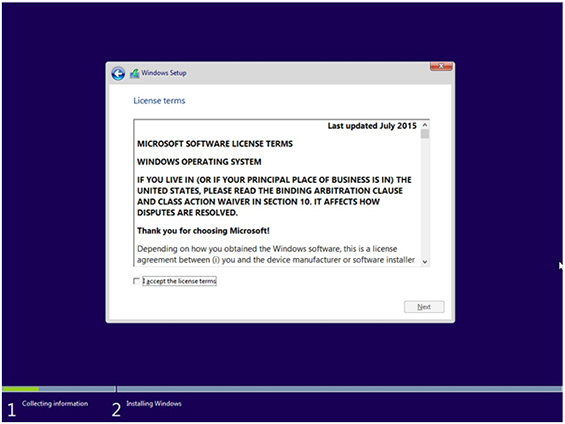 8 – What Type of Installation do you want?
You now have two options to either Upgrade: Install Windows and keep files, settings and applications or Custom: Install Windows only (advanced).
For a new installation of Windows or if you want to do a clean reinstall of Windows, you will always need to choose the Custom: Install Windows only (advanced) option.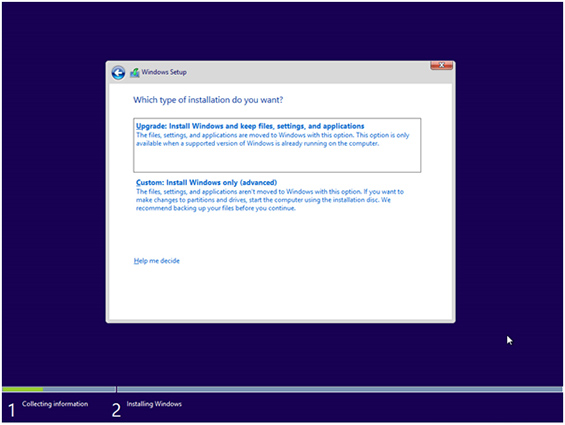 9 – Where to install Windows?
On the next screen you will now need to select where you want to install the operating system, here will be displayed all the hard drives installed in the PC along with any partitions created on them.
All installed hard drives will be listed here with a name starting as Disk, these will start with Disc 0 and subsequent hard drives appears as Disk 1, then Disk 2 and so on.
Next to the hard drive name it will either state Unallocated Space – if the hard drive or part of it is no formatted or it will show as a Partition with a number from 1 upwards, if the hard drive has been formatted or partial formatted. If there are more partitions these will be labelled 2 and upwards.
For a new installation your hard drive should show as Unallocated Space next to it, you just need to select the hard drive and click on next to start the installation process.
If you need to reinstall windows, then your hard drive should have multiple lines showing with Partition 1, Partition 2 and so on next to it, as Windows installations will create multiply partitions on the hard drive during the installation process. You will need to delete all of these partitions so that the hard drive then shows as Unallocated Space, you can then click on next to start the installation process.
If there is more than one hard drive in the PC then you will need to make sure you select the correct hard drive when installing Windows, this is even more important if you have any data on a hard drive that you want to keep, as deleting a partition will delete all the data on that part of the hard drive. If you have any data on a hard drive that you want to keep then this will need to be copied off the hard drive before you reinstall the operating system.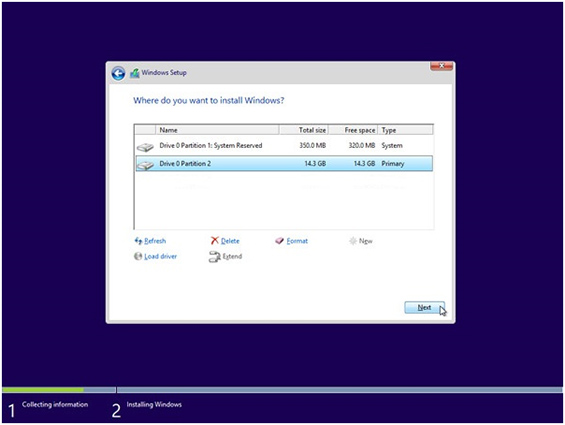 10 – Off it goes
Windows 10 will now be installed to the selected hard drive, this will usually take some time when installing from a Disc.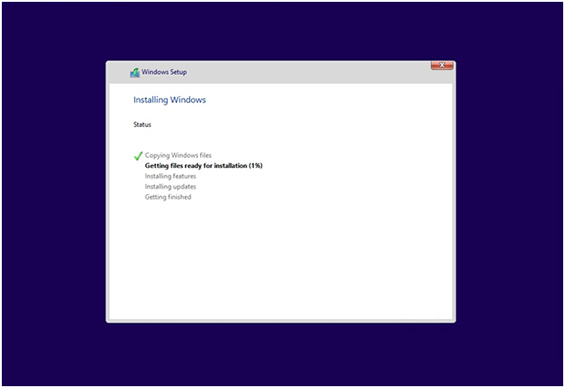 11 – Let's get Connected
If you have a wireless card installed and are not connected to the Internet via an Ethernet cable, then the next screen after the installation process has finished will prompt you to get online, otherwise you will be sent directly to the settings screen.
This process of getting online isn't essential to complete the installation of Windows 10 and has been added so that you can set a Microsoft Account as part of the installation process, there's more on the Microsoft Account a few steps further forward.
It is possible to Skip this step by selecting this option in the bottom left of the screen.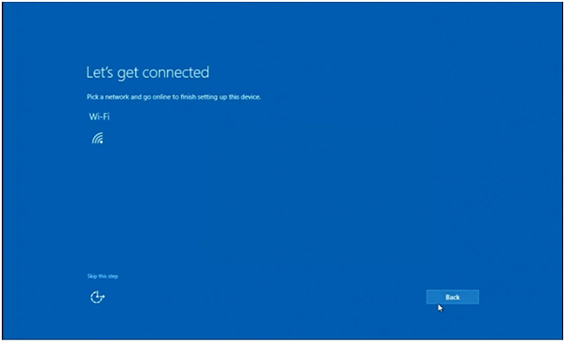 12 – Settings
Once the installation process has finished running you will then be presented with the Get Going Fast screen, here you have the option to either Use Express settings shown quite clearly in the bottom right or you can Customise settings by selecting the option for this shown not quite as prominently in the bottom left.
Whilst most users may want to quickly skip through this section and use the Express settings, we would recommend selecting the Customise settings and having a read through all the settings as these will impact on the amount of personal information Windows 10 will share with Microsoft.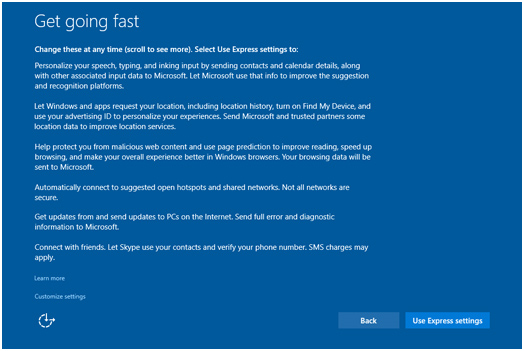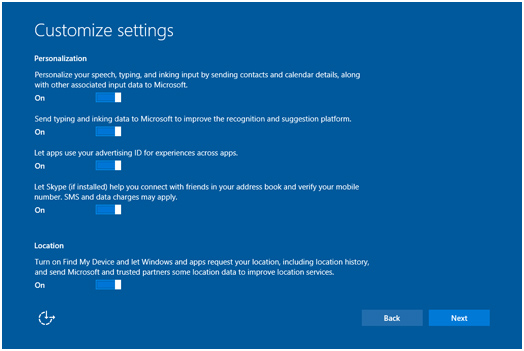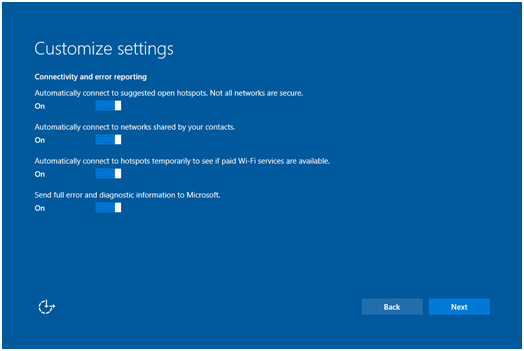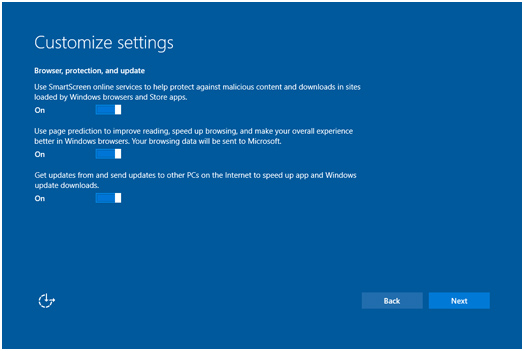 13 – Who owns this PC?
The next screen will only be shown if you are installing the Pro version of Windows 10 and the PC is connected to the internet, otherwise this won't be displayed. The option itself is quite straightforward.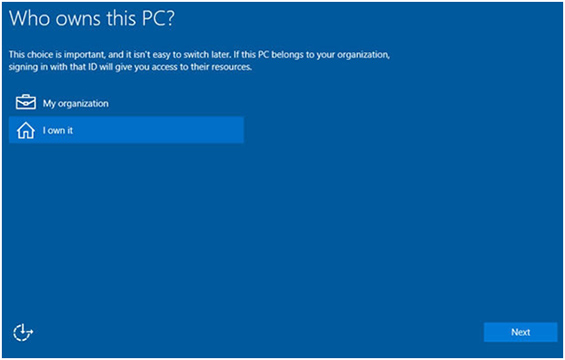 14 – Microsoft Account
The next option is for you to create a Microsoft account or log into your existing account if you have one. You can of course Skip this step by selecting this option in the bottom left of the screen.
This screen will not appear if you are not connected to the internet and you will have automatically have been sent to the Create an account for this PC screen.
As with the settings you should consider how much information you want to share with Microsoft before you go ahead and create a Microsoft account, though it does have some benefits.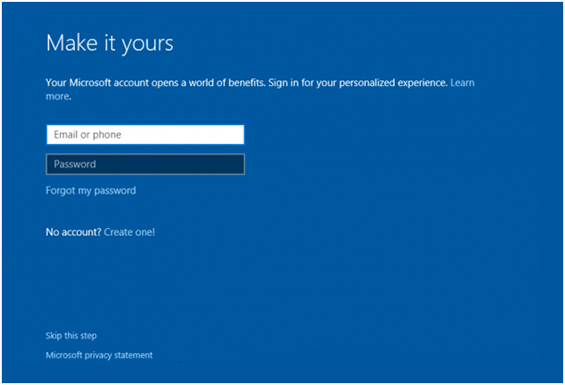 15 – Create a Local Account
If you aren't connected to the internet, or do not wish to create a Microsoft account, you will then be sent to the screen below, whereby you can create a local account on the PC. This then prompts you to create an account by adding a Username, you also have the option to add a password as well.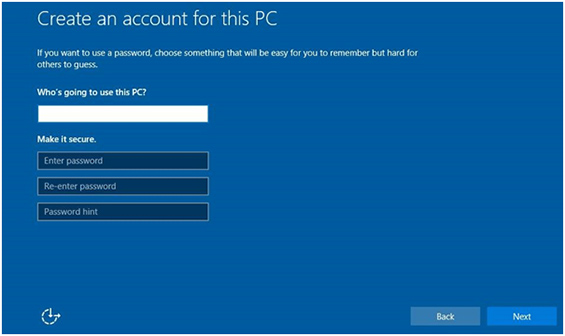 16 – Finished?
You then have to wait again whilst Microsoft tells you how exciting this all is, before you are finally through into Windows 10 and end up on the desktop.
17 – Don't Forget
From the desktop you'll then need to install the drivers for the components in your PC, these will usually be included on discs that come with the PC, but we do recommend downloading the latest drivers from the component manufacturer's website and installing these.