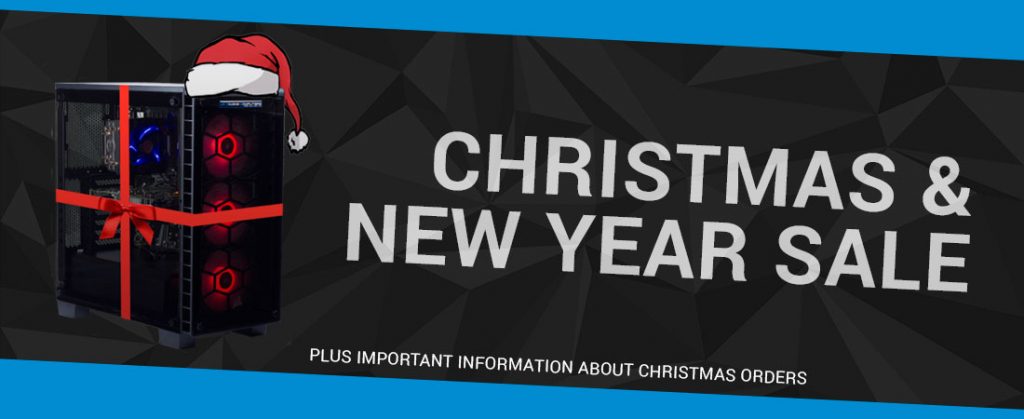 Christmas and the new year is a very busy time for us, it means we order in more stock to meet the demands of the increased orders throughout November, December and January. Buying more bulk stock means we get components cheaper and cheaper components means cheaper computers! As a result of the last few weeks effort we have now officially launched our Christmas & New Year Sale! The majority of our Custom PCs have now have up to 10% of their price chopped off. Sale prices have already been applied to each system so there is no need for you to do anything other than place the order as normal.
For example our Nyx Mini Gaming PC was £1079.99, Now £1019,99. The Morpheus i5 Gaming Computer was £799.99, Now £739.99 and our Next Day Atlas was £1819.99 is now only £1749.99.
For all you Black Friday and Cyber Monday bargain hunters these prices are in effect now so there is no need to wait for prices to drop as they already have!
Extended Returns & Christmas Orders Advice
Being the best custom PC builder in the country means our services are very much so in demand this time of year. Our workload over the Christmas months pretty much doubles which puts a big strain on our resources. In past years we had to simply stop taking orders to meet the demand for the orders already promised. The last thing we want is not being able to fulfil an order because we taken too many on. The Second from last thing we want is you not being able to order because we have stopped taking orders so we strongly urge customers to make Christmas orders sooner rather than later. These sale prices will remain the same until well into the new year as of 16/11/18. We have also extended our returns policy until January the 11th so if you do want to return the PC for whatever reason you can do so many days after the Christmas Break.
Delivery Dates & Order Cut Off Details
UPDATE 11/12/18 - The boss has promised Pizza if we work late, as a result we have a second wind and indeed are working late (up to 11pm most nights!) as well as enjoying Pizza. As a result, we are still taking orders and will be attempting to get them done in time for Christmas. If you have a time critical potential order then please give us a call prior to making the order so we can give you a realistic completion date.
As many of our systems are built to order which take time to assemble and test there are strict cut-offs in place to ensure your order is ready to ship in time for Christmas Day. The last standard build and test service delivery date before December the 25th, is Saturday 22nd of December which means you need to have placed your order with us by mid day on Friday 7th of December in order to guarantee it being ready to ship in time. Priority builds needs to have their orders in by mid day on the 14th of December and the "Super Rush Job" service customer will still need to give us a call before placing the order so we can let you know an estimated completion date. Please be reminded the 22nd of December is not only cutting it fine but also a Saturday delivery service so if you want a system delivered on a free standard Tuesday to Friday delivery service you will need to get those orders in 24 hours earlier. Don't forget, we don't offer a Saturday delivery service to some areas of the UK. The option to upgrade to a Saturday service is possible on all orders as normal.
Any systems ordered after any of these dates will probably be ready to ship for the big day but are in no way guaranteed.
Collections from us can be collected right up until Monday 24th of December which is our last working day before Santa arrives.
Please remember Systems with 16GB, 32GB or 64GB of RAM, An Overclock or a fully watercooled system incur extra build and test time, so you will need to get these orders in sooner. Details on how these upgrades affect the build and test time can be found here.
If you have left it too late then we do have an increased stock of our Pre Built PCS which are already built, tested, packaged and ready to ship. Our "Super Rush Job" build and test service is also available as normal but we fully expect it to be in full demand for last minute orders so do please call us before ordering a Super Rush Job as we only take on one of these jobs at a time so we can devote our full attention to it.
Opening Times Over the Christmas Break
For our sins we will be working right up until 6pm December 24th, after that we are officially closed until January the 2nd however there will be skeletal staff in on the 27th, 28th & 31st for support and sales enquiries. Little or no production will happen on these 3 days and so is not included in the build/test time-scales.
Our Courier is back open on Thursday 27th and Friday 28th so we will be able to dispatch orders the days for delivery on the 28th and Saturday 29th.
Normal service will resume from Wednesday 2nd of January 2019 meaning the next available standard delivery date after this period will be Thursday 3rd January 2019.
Finally we wish all of our customers, past and present a very Merry Christmas and a Happy New Year from all of us here at UK Gaming Computers.