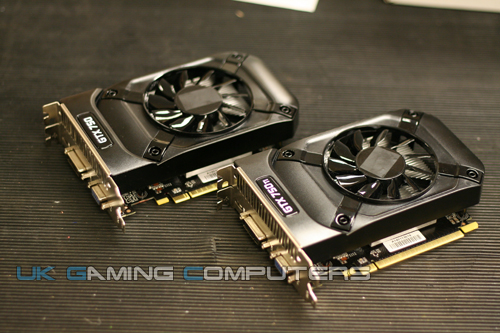 Nvidia's latest throw of the dice shows us the new GeForce GTX 750 and GTX 750 Ti graphics cards aimed towards the bottom of the mid range market.
When the new 7XX series cards launched back last year we eventually saw a line up of a GTX 760, 770, 780 and a 780 Ti, however it seemed Nvidia stopped at the 760 and the lower end of the market didn't see any new cards, until now!
Interesting enough the new GTX 750 and 750 Ti are the first cards to sport the new "Maxwell" architecture which is the successor to "Kepler". Like Kepler, Maxwell will use a 28nm manufacturing process but with later models move down to a 20nm manufacturing process. The 750 and 750 Ti are of the 28nm manufacturing process. Another interesting feature is neither card has a power connector drawing all the required power from the PCI-E Slot.
Early benchmarks showed the new cards to be a little watered down barely exceeding the performance of a Nvidia GTX 650 of 650 Ti however it was presumed because the drivers were in their early infancy.

Test Setup

Both cards were tested in the same setup;

Intel Core i7 4770K (stock)

8GB Corsair XMS3 RAM

Asus Z78-K Motherboard

Windows 8.1



Back in early February when we initially tested the cards, both the new cards would not install with the current latest 332.21 Driver so an older 332.17 had to be used. Interesting to also know is the older GTX 660 and GTX 650 Ti did not install with the 332.17 driver and had to be benchmarked with the latest 332.21 driver so there is some inconstancy with the setup. Another note is that both these new cards are factory overclocked.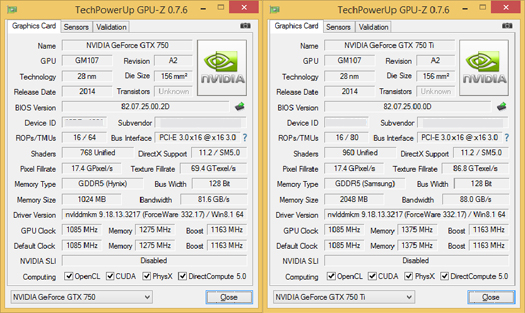 So, how do they actually do? The numbers speak for themselves;


| | |
| --- | --- |
| GPU | 3DMark 11 Score |
| Nvidia GTX 750 | 5250 |
| Nvidia GTX 750 Ti | 5963 |
| Nvidia GTX 650 Ti | 4819 |
| Nvidia GTX 660 2GB | 6727 |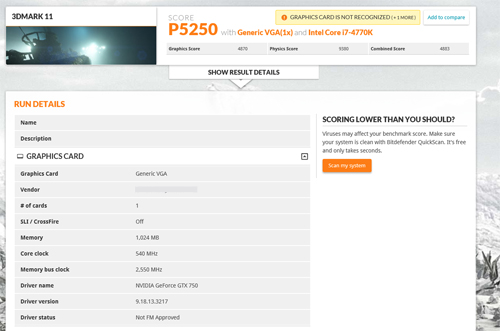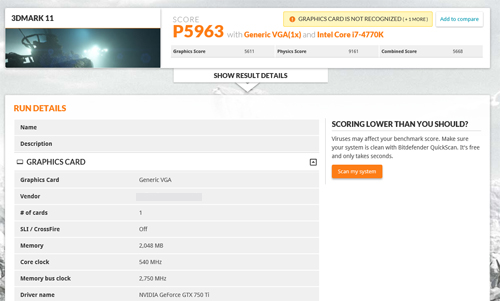 Thoughts

By no means these new cards are not going to set the world alight as they are not exactly flagship models however 3DMark 11 benchmarks position them nicely in-between the GTX 650 Ti and GTX 660. I suspect they will find their way in to custom PCs and gaming PCs to replace the GTX 650 and 650 Ti over time but this is all really dependant on the cost.
It is worth remembering that both the new flavours were tested with an older driver and it was impossible to test all cards on the same driver. No doubt that will impact the performance but over time it is expected Nvidia will be updating drivers that are compatible with GTX 750's and as a result will pull off better 3DMark Scores.